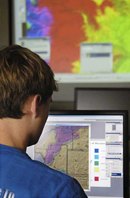 If you are drawn to data, maps, and information—and seek a growing field—the UW-Madison accelerated Geographic Information Systems (GIS) Certificate could be the right fit. Employment of geographers is expected to grow 29% in the next decade, much faster than the average for other occupations.
At UW-Madison, our GIS students stand on the shoulders of our reputation as a renowned geography department. We are one of the top programs in the nation, and most of our students secure employment immediately upon completion of their GIS certificate.
In just one year, you will be able to integrate and analyze spatial and non-spatial information for mapping, planning, and decision making. These skills are sought by government agencies, private engineering firms, non-profit organizations, consultants, utility companies, and other employers around the world.
[WPSM_AC_SH id=248]
You will attend classes with our master's degree students and PhD candidates and gain practical experience working and studying in places like our Robinson Map Library, UW Cartography Lab, or the Wisconsin State Cartographer's Office.
To complete your certificate, you will cap off your studies with an internship project that takes advantage of your skills and interests. With our help, you will find a host, develop a proposal, and carry out a project that communicates your results involving data development, spatial analysis, and the production of maps. Often students find that their internship lays the groundwork for future employment. Many former students are today's employers, and they come to us seeking the best candidates to fill their GIS positions.
The UW-Madison GIS Certificate offers a highly specialized and deeply personal experience for each of our students. We provide intensive, one-on-one interactions to make sure you find the best fit for your background and interests, secure a meaningful internship, and are ready to take on a role as a GIS specialist, analyst, or project manager.
Program Advisor
Karen Tuerk
GIS Certificate Program Manager
376 Science Hall
550 N. Park Street
Madison, WI 53706
Phone: 608.265.9975
kstuerk@wisc.edu