Anika Rice
Position title: M.S.
Email: amrice2@wisc.edu
Address:
Pronoun(s): she | her | hers
Advisor: Matt Turner & Lisa Naughton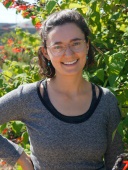 EDUCATION
BA, Geography, University of California Berkeley, 2014
Interests
Agroecology, migration studies, feminist geography, participatory action research methodology, agrarian and environmental change, political ecology, land-based pedagogy, Latin America
RESEARCH AREAS
Anika Rice is a People-Environment Geographer studying agroecology, gender and migration in a changing climate. She received her BA in Human Geography from UC Berkeley in 2014 and has since worked as a feminist outdoor educator and farm curriculum writer in the Bay Area. In 2016 she completed a project titled "Migration, Women and Coffee Production: Changing roles on Guatemalan and Nicaraguan farms" as a National Geographic Early Career Grantee.
CURRENT RESEARCH
Anika is working with grassroots agroecology organizations in the highlands of Guatemala, asking questions about land tenure, crop diversification, gender equity/disparities, soil practices and farmer-to-farmer pedagogies.
During the Covid-19 pandemic she is working on through pre-pandemic participatory action research data with the Jewish Farmer Network, developing links between identity-building, agroecological knowledge politics and participatory social movement practice. She is also part of a collaborative remote project measuring resilience and solidarity networks among rural Guatemalan producers during the pandemic.
RECENT PUBLICATIONS
Rice, A. "We Don't Own Nature: Coffee Producers and Diversification," Tea & Coffee Trade Journal, April 2018, 16-21.
Rice, A. "Women in Coffee Lead the Way: Agroecology in times of crisis," Tea & Coffee Trade Journal, October 2017, 28-33.
Rice, A. "Urban farm acts as a tool for growth," The Berkeley Californian, Op-Ed. Jan 23, 2014.
Rice, A. Made in the Shade: Bird Friendly Coffee, Map in Food: An Atlas, Guerilla Cartography, 2013, 34-35.
AWARDS AND HONORS
• National Science Foundation Graduate Research Fellow, 2020-2025
• University of Wisconsin Madison, Helen Firstbrook Franklin Scholarship, 2019-2020
• University of Wisconsin Madison, Institute for Regional and International Studies Summer Fieldwork Research Award, 2019-2020
• Outstanding Curricular Achievement Award, JOFEE, 2019
• JOFEE Fellowship (Jewish Food, Farming & Environmental Education) Pedagogy training, 2018
• National Geographic Early Career Grantee, Women in Coffee, 2016
• Ecological Farming Association Conference Student Grant, 2014
• UC Berkeley Green Initiative Fund Grant- Student Organic Garden Program, 2014
• University Honors, UC Berkeley, 2014