Ian Muehlenhaus
GIS Professional Programs Director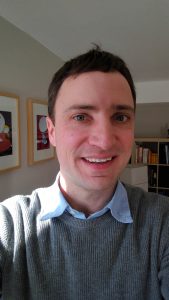 Ian Muehlenhaus left his career as an Assistant Professor at James Madison University to become the Director of the new Masters in GIS and Online Map Programming team in July 2015.
His teaching and research background is in map design and GIS. He earned his M.S. in Geog­ra­phy at Penn State Uni­ver­sity in 2002 and his Ph.D. in Geog­ra­phy at the Uni­ver­sity of Min­nesota in 2010.
Ian's research on GIS and mapmaking has been pub­lished in a vari­ety of jour­nals, includ­ing:
The Car­to­graphic Jour­nal,
Car­tog­ra­phy and Geo­graph­i­cal Infor­ma­tion Sci­ence (CaGIS),
Car­to­graph­ica, and
Car­to­graphic Per­spec­tives
Ian also authored a textbook on web and mobile map design — Web Car­tog­ra­phy: Map Design for Interactive and Mobile Devices. His goal was to write a book that was easy to read and not bogged down in overly technical terminology — a style you will find he mimics in his teaching approach.
As for outreach, Ian is currently the Vice-Chair of the International Cartographic Association's Commission on Map Design. He is the Coor­di­na­tor of the annual Cartography and GIS Map Competition (CaGIS), a Director  of the same organization, an Edi­to­r­ial Board Mem­ber of Car­to­graphic Per­spec­tives, and an Associate Editor for the Jour­nal of Maps.
Ian has worked as a con­sul­tant for the National Geo­graphic Soci­ety and National Endow­ment for the Arts, and lec­tured on effec­tive map design at the NASA God­dard Space Flight Cen­ter.
Ian loves spread­ing the word about GIS, mapping, and this program! If you would like to have Ian come speak to your group about UW-Madison's Masters in GIS Programming, or conduct a webinar, please don't hesitate to drop him a line.
More info can be found on his personal website: ian.muehlenhaus.com