Graduate student (Ph.D.)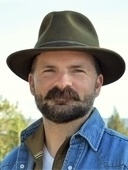 Education
M.S., Geography, University of Wisconsin-Madison, 2014
B.A., Geography, Macalester College, 2007
Research Areas
Central Asia and Afghanistan, Pastoral mobility, land tenure, environmental governance, legal pluralism, Islamic law and economics, land use change, remote sensing, development, and "resource conflicts."
PhD Minor: Law
M.S. Thesis: My master's thesis examined legal pluralism in community-based resolutions of disputes regarding pasture access in northern and central Afghanistan. I described how different actors (nomadic and sedentary groups of various ethnicities) mobilized different rules systems, and how the tenure arrangements that emerged from these resolutions carry important implications for the livestock economy, socio-political relations, and the natural environment.
Current Research
I am currently conducting my dissertation fieldwork in Tajikistan to explore how pasture management and livestock economies have changed in the post-Soviet era and how land access is negotiated in a dynamic legal landscape of evolving formal and informal rules.
Courses Taught
Teaching Assistant
GEOG 339 - Environmental Conservation (Fall 2011)
GEOG 340 - World Regions in Global Context (Summer 2014, Summer 2015)
Lecturer
GEOG 340 - World Regions in Global Context (Fall 2014, Spring 2015, Fall 2015)
Recent Publications
Robinson, S, C Jamsranjav, K Gillin. [Forthcoming in 2017] "Pastoral Property Rights and Environmental Discourse in Central Asia: Factors and Actors Driving the Reform Agenda." Etudes Rurales.
Turner, MD, J McPeak, K Gillin, E Kitchell, N Kimambo. 2016. "Reconciling Flexibility and Tenure Security for Pastoral Resources: the Geography of Transhumance Networks in Eastern Senegal." Human Ecology 44(2): 199-215.
Jawad, N, K Gillin, M Akramova. 2010. Building Viable Bridges between Emergency and Development, FAO Tajikistan 2008-2009. Dushanbe, Tajikistan: Food and Agriculture Organization of the United Nations
Awards and Honors
L&S Teaching Fellow Award, 2017
State Department Title VIII Research Scholar Fellowship, 2017
Fulbright US Student Grant, 2016
FLAS Summer Fellowship (Pashto), 2013
Trewartha Graduate Research Award, 2012
FLAS Academic-Year Fellowship (Farsi), 2012
FLAS Summer Fellowship (Dari), 2012
Fulbright-Hays Fellowship (Dari/Tajik), 2010
Other Activities
Contact Information
Email: kgillin@wisc.edu