Graduate student (Ph.D.)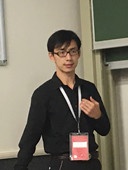 Education
M.Phil., Anthropology, The Chinese University of Hong Kong
B.Sc., Business Administration (Major in Tourism Management), Sun Yat-sen University, China;
B.A., Anthropology, Sun Yat-sen University, China
Research Areas
African urbanism; Ethnicities; Mobilities;(Im)migration; China-Africa links; Regional focus: Nigeria
Current Research
Becoming a Lagosian: The Everyday Politics of Social Identification and Differentiation in the African City
Courses Taught
Teaching Assistant "Introduction to International Studies": Fall 2014, 2015, 2016, 2019
Teaching Assistant "Civilizations in India" (Online): Spring 2017; Spring 2018
Teaching Assistant "Introduction to Human Geography": Fall 2017
Teaching Assistant "World Regions in Global Contexts" (Online): Fall 2018; Spring 19
Recent Publications
Peer-reviewed Publications:
Lan, Shanshan and Allen Hai Xiao. 2014. Mobilités transfrontalières et réseaux transculturels de petits entrepreneurs chinois et nigérians (Trans-border mobility and cross-cultural business networking among Chinese and Nigerian petty entrepreneurs). Politique Africaine 134:45-67.
Xiao, Allen Hai. 2015. In the Shadow of the States: The Informalities of Chinese Petty Entrepreneurship in Nigeria. Journal of Current Chinese Affairs 44(1): 75-105.
Deng, Grazia Ting and Allen Hai Xiao. 2016. Aspiring to Motility: Chinese Petty Entrepreneurs in Italy. In Valentina Pedone & Ikuko Sagiyama, eds., Transcending Borders, pp. 3-25, Firenze University Press.
Xiao, Allen Hai. 2017. "Exploring Social Interactions between Chinese Immigrants and Corruption in Nigeria." In A. Adeniran and L. Ikuteyijo, eds. Africa Now!: Emerging Issues and Alternative Perspectives, pp. 189-210, Palgrave MacMillan.
Xiao, Allen Hai. 2018. "Interfered Rhythms, Navigating Mobilities: Chinese Migrants on the Roads in Lagos." In Daniel E. Agbiboa, ed. Transport, Transgression and Politics in African Cities: The Rhythm of Chaos. PP. 111-130. Routledge.
Xiao, Allen Hai. 2019. ""Oyinbo, Wole!": Urban Rhythms and Mobile Encounters in the Lagos Transport Systems." Urban Forum 30(2): 133-151.
Awards and Honors
2015. "Linking China and Nigeria Online: ICT Use, Social Relationships and Transnational Petty Entrepreneurship", First prize of Stan Brunn Student Paper Award from Communication Geography Specialty Group, American Association of Geographers.
2015. "Mapping Social Interactions between Chinese Migrants and Nigerians on the Roads in Lagos." The Association for the Study of the Middle East and Africa (ASMEA) Research Grant
2015. Royal Air Maroc-ASA Student Travel Award, African Studies Association
2016. Scott Kloeck-Jenson Fellowship, Institute for Regional and International Studies, UW-Madison
2017. Trewartha Research Award, Department of Geography, UW-Madison
2018. Student Research Travel Grant, Graduate School, UW-Madison
Other Activities
Convener, BORGHESI-MELLON WORKSHOPS (2015-2016), Post-colonial Consciousness: Representations of China in Africa (Guest Lectures given by Yoon Jung Park, Howard French, Lesley Nicole Braun, May Tan-Mullins, Marie-Helene Koffi-Tessio, Laura M. Tilghman, David H. Shinn, Elisha Renne, Deborah Bräutigam)
Field Story: Being an Òyìnbó in Yorùbáland LINK
Contact Information
Email: hxiao35@wisc.edu