Title: Assistant Professor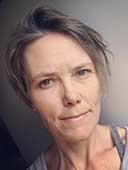 Education
Postdoctoral Fellow, Department of Geography, Syracuse University
Postdoctoral Fellow, Center for Place, Culture, and Politics, The CUNY Graduate Center
Faculty Fellow in the Humanities, Humanities Center, Syracuse University
Ph.D., Department of Geography, University of California, Berkeley
Research Areas
I am a feminist geographer who focuses on issues of racism and violence in the United States and in US domestic and international policy. My research on the social production of health inequities focuses on the relationship between militarization and health inequities and on movements for health and social justice. My second principle area of research is on migration deterrence and the relationship between migration detention in the United States and the broader carceral state. As in my work on health politics, I am interested in how movements are organizing to transform the carceral state.
Current Research
My current research focuses on the intersections between health and migration policy or policing. I am co-PI with Patricia Ehrkamp (University of Kentucky) and Anna Secor (University of Kentucky) of the NSF-funded project entitled Geopolitics of Trauma. We are investigating the transnational process through which trauma is mobilized in the refugee resettlement process. We are focusing on the resettlement of Iraqi refugees to different sites in the United States and aiming to understand how trauma practices rework geopolitical relationships.
I am part of the Transforming Justice collaborative with Anne Bonds (University of Wisconsin-Milwaukee), Lorraine Halinka Malcoe (University of Wisconsin-Milwaukee), Jenny Plevin (University of Wisconsin-Milwaukee), and Robert Smith (Marquette University), which has been documenting experiences of and conversations around policing in Milwaukee, Wisconsin. Anne Bonds and I have an active research project on the histories of policing and community development in Milwaukee and how these practices can be used to theorize urban geography.
I am beginning research on the effects of migration policing and anti-immigrant policies have on access to health services for immigrant and refugee women.
Recent Publications

Books
Loyd, Jenna M. and Alison Mountz. (forthcoming, 2018). Boats, Borders, and Bases: Race, the Cold War, and the Rise of Immigration Detention in the United States. University of California Press. Loyd, Jenna M. 2014. Health Rights Are Civil Rights: Peace and Justice Activism in Los Angeles, 1963-1978 Minneapolis: University of Minnesota Press. Loyd, Jenna M., Mitchelson, Matt, and Andrew Burridge, eds. 2012. Beyond Walls and Cages: Prisons, Borders, and Global CrisisAthens, GA: University of Georgia Press. Recent journal articles and book chapters
Loyd, Jenna M. (forthcoming, 2017). "Obamacare and Sovereign Debt: Race, Reparations, and the Haunting of Premature Death." In Ehlers, Nadine and Leslie Hinkson, eds. Subprime Health: Debt and Race in U.S. Medicine.Minneapolis: University of Minnesota Press. Loyd, Jenna M. 2017. "Social Justice." The Wiley-AAG International Encyclopedia of Geography. Loyd, Jenna M. 2015. "Carceral Citizenship in an Age of Global Apartheid." Occasion. 8: 1-15. http://stanford.io/2dPhnmp. Loyd, Jenna M. 2015. "Whitey on the Moon: Space, Race, and the Crisis of Black Mobility." In Montegary, Liz and Melissa White, eds. Mobile Desires: The Politics and Erotics of Mobility Justice. Palgrave Pivot, 41-52. Loyd, Jenna M., Mitchell-Eaton, Emily, and Alison Mountz. 2015. "The Militarization of Islands and Migration: Tracing Human Mobility through US Bases in the Caribbean and the Pacific."Political Geography doi: 10.1016/j.polgeo.2015.11.006. Great Lakes Feminist Geography Collective (Mountz, Alison, Bonds, Anne, Mansfield, Becky, Loyd, Jenna, Hyndman, Jennifer, Walton-Roberts, Margaret, Basu, Ranu, Whitson, Rina, Hawkins, Roberta, Hamilton, Trina, Curran, Winifred). 2015. "For Slow Scholarship: A Feminist Politics of Resistance through Collective Action in the Neoliberal University."ACME. 14(4): 1235-1259. Loyd, Jenna M. and Alison Mountz. 2014. "Managing Migration: Scaling Sovereignty on Islands." Island Studies Journal (Special issue on islands as hubs of migration and asylum). 9(1): 23-42. Mountz, Alison, and Jenna M. Loyd. 2014. "Transnational Productions of Remoteness: Building Onshore and Offshore Carceral Regimes across Borders."Geographica Helvetica (Special issue on criminality and carcerality across boundaries). 69: 389-398.
Awards and Honors
Past President Book Gold Award, Association for Borderlands Studies, for Beyond Walls and Cages, 2014
Contact Information
Website: http://www.jennamloyd.com
Email: jmloyd@wisc.edu