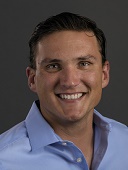 Education
2015-2018: Postdoctoral Research Associate, Los Alamos National Laboratory
2014: Ph. D. Environmental Science and Engineering, University of Texas at El Paso
2008: B. S. Environmental Science, University of Texas at El Paso
Research Areas
Remote Sensing, Surface Hydrology, Wetlands, Arctic Ecosystems, Environmental Change, Carbon Cycling, Geospatial Analytics, LiDAR, Photogrammetry, Unmanned Aerial Systems (Drones).
Courses Taught
Polar Regions and Their Importance in the Global System (Spring 2019)
Recent Publications
Andresen C. G., Lawrence, D. M., Wilson, C. J., McGuire, A.D., Jafarov, E., Schaefer, K., Chen, G., Hayes, D., Zhang, W, Chen, X., Gouttevin, I., Burke, E., Chadburn, S., Ji, D., Koven, C. (in review). Projected Arctic drying from permafrost thaw is uncertain. Nature communications.

Andresen C. G., Tweedie C. E., Lougheed V. L. (2018). Climate and nutrients effects on Arctic aquatic plant phenology using phenocams. Remote Sensing of Environment. Doi: 10.1016/j.rse.2017.11.013

Andresen C. G. Lara M. J., Tweedie, C. E., Lougheed, V. L. (2017). Rising Plant-mediated Methane Emissions from Arctic Wetlands. Global Change Biology. doi: 10.1111/gcb.13469.
Featured in: EOS magazine (https://eos.org/articles/aquatic-plants-may-accelerate-arctic-methane-emissions)

Muster, S., Roth, K., Langer, M., Lange, S., Cresto, F., Bartsch, A., Morgenstern, A., Grosse, G., Jones, B., Sannel, A. B. K., Sjöberg, Y., Günther, F., Andresen, C. G., Veremeeva, A., Lindgren, P. R., Bouchard, F., Lara, M. J., Fortier, D., Charbonneau, S., Virtanen, T. A., Hugelius, G., Palmtag, J., Siewert, M. B., Riley, W. J., Koven, C. D., and Boike, J. (2017). PeRL : A Circum-Arctic Permafrost Region Pond and Lake Database. Earth Syst. Sci. Data Discuss., doi:10.5194/essd-2016-56.

Lara, M. J., Johnson D. R., Villarreal, S., Andresen C. G., Tweedie C.E. (2017). Peak season carbon exchange shifts from a sink to a source following 50+ years of herbivore exclusion in an Arctic tundra ecosystem. Journal of Ecology 2017, 105, 122–131 doi: 10.1111/1365-2745.12654.

Andresen C. G. and Lougheed, V. L. (2015). Disappearing Arctic tundra ponds: Long-term (1948-2013) fine-scale analysis of surface hydrology in drained thaw lake basins over a 65 year period (1948-2013). Journal of Geophysical Research Biogeosciences, doi: 10.1002/2014JG002778.
Featured in: Science Magazine News (http://www.sciencemag.org/news/2015/03/alaska-s-ponds-are-disappearing)
AGU News (http://news.agu.org/press-release/ponds-are-disappearing-in-the-arctic-new-study-finds/)
UTEP News (http://news.utep.edu/researcher-studies-how-climate-change-is-affecting-arctic-ponds/)

Lougheed V. L., Hernandez, C., Andresen C. G., Miller, N. A., Alexander, V., Prentki, R. (2015) Contrasting responses of phytoplankton and benthic algae to recent nutrient enrichment in Arctic tundra ponds. Freshwater Biology. 60:10, 2169-2186.

Andresen C. G. Vargas S. A., Lougheed, V. L., Tweedie, C. E. (2014) Kite-based Aerial Photography: A low cost, effective tool for wetland research. Wetland Science and Practice 32:15-19

Lin D. H., Johnson, D. R., Andresen C. G., Tweedie C.E. (2012) High-spatial resolution decade-time scale land cover change at multiple locations in the Beringian Arctic (1948 – 2000s). Environmental Research Letters 7 025502.
Contact Information
Email: candresen@wisc.edu