Assistant Professor of Geography and International Studies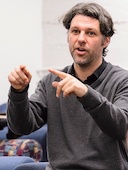 Education
PhD (Geography), University of Washington, 2010.
Research Areas
I have two major research streams: 1. I use qualitative methods to explore the everyday dynamics of economic restructuring in India. My dissertation work examined the expansion and commercialization of microfinance programs in coastal Andhra Pradesh. More recently, I have been analyzing the growth of private colleges in western Uttar Pradesh. In all of this work, I am particularly interested in the role that young people play in mediating processes of marketization. 2. Drawing primarily on archival sources, I am interested in tracing how new communication technologies have been adapted for military and surveillance operations in the US. This includes Cold War propaganda and civil defense campaigns. It also includes initiatives designed to detect and suppress social unrest within US cities.
Current Research
In 2015-16, I will be conducting follow-up research with youth entrepreneurs in the north Indian city of Meerut. I will also be working in archives of the Detroit Commission of Community Relations focusing on various programs related to rumor and social tension.
Courses Taught
Geog 510: Economic Geography
Geog 901: Seminar in Human Geography
Intl St 101: Introduction to International Studies
Intl St 402: Global Poverty and Inequality
Intl St 620: Research Design for Social Scientists
Affiliations
Center for South Asia International Learning Community Global Studies Development Studies
Recent Publications
Young, S., Pinkerton, A., & Dodds, K. 2014. The Word on the Street: Rumor, race and the anticipation of urban unrest. Political Geography 38, 1, 57-67

Jeffrey, C. & Young, S. 2014. Jugād: Youth and Enterprise in India. Annals of the Association on American Geographers 104, 1, 182-195

Young, S. 2013. Leveraging Mumbai: Global finance, the state, and urban politics. Pages 174-194 in K. Coelho, L. Kamath & M. Vijayabaskar [eds.] Participolis: Consent and contention in neoliberal urban India (New Delhi: Routledge)

Jeffrey, C. & Young, S. 2012. Waiting for Change: Youth, caste and politics in India. Economy & Society 41, 4, 638-661

Young, S. & Jeffrey, C. 2012. Making Ends Meet: Youth enterprise at the intersections. Economic & Political Weekly 47, 30, 45-51

A. Pinkerton, S. Young & K. Dodds 2011. "Postcards from Heaven: critical geographies of the Cold War Military-Industrial-Academic Complex. Antipode 43, 3, 820-844

A. Pinkerton, S. Young & K. Dodds 2011. Weapons of Mass Communication: the securitization of social networking sites. Political Geography 30, 3, 115-117

Young, S. 2010. Gender, Mobility and the Financialization of Development. Geopolitics 15, 3, 606-627

Kristoffersen, B. & Young, S. 2010. Geographies of Statehood and Security in Norway's "Battle of the North". Geoforum 41, 4, 577-584

Young, S. 2010. The 'Moral Hazards' of Microfinance: Restructuring rural credit in India. Antipode 42, 1, 201-230
Graduate Students and Postdocs
PhD Students
Ritosdhi Chakraborty
Wanjing Chen
Contact Information
Office Hours: By appointment
Mailing Address:

University of Wisconsin
Department of Geography
550 N. Park Street
Science Hall
Madison, WI 53706-1404
Phone: (608) 890-3097
Email: sjyoung3@wisc.edu