Results:
Three soil information products were provided: fuzzy membership maps of individual soil types (series), raster soil series maps, and conventional soil polygon maps.
---- Fuzzy Membership Maps
Fuzzy membership maps showing the spatial gradation of soils and preserving the intermediate nature (between types nature) of soils. This preservation would assist in soil interpretation. The images show the membership variation of Anakeesta (Right Upper) and Sylco (Right Lower) respectively. Anakeesta occupies most ridge top areas and slopes areas above frigid line while Sylco occupies most ridge top areas and slopes areas below frigid line. The membership maps show a realistic gradation of the two soil types when one travels from high elevation to low elevation position.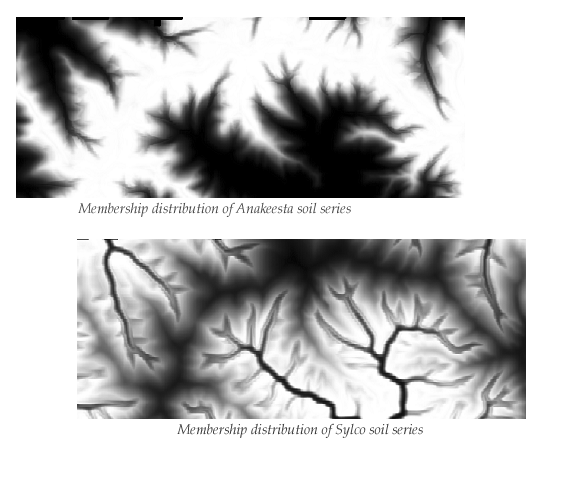 ---- Raster Soil Maps
Conventional soil type maps can be produced through harden process from the fuzzy membership maps derived from the SoLIM approach.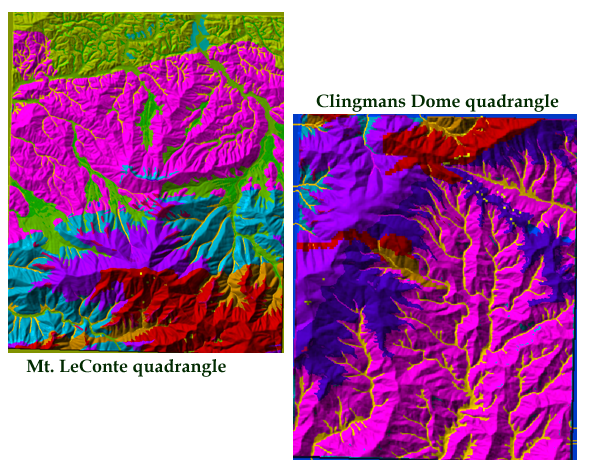 ---- Polygon Soil Maps (with the minimum mapping size of 1 hectare)
Conventional soil polygon like maps can also be created from the fuzzy representation. We know that it is inevitable for a soil polygon to include some small soil bodies which are different from what the soil polygon is labeled to be. These inclusions can be reported per soil polygon basis which is a great improvement over the conventional approach to reporting inclusions (often lumped into a mapping unit).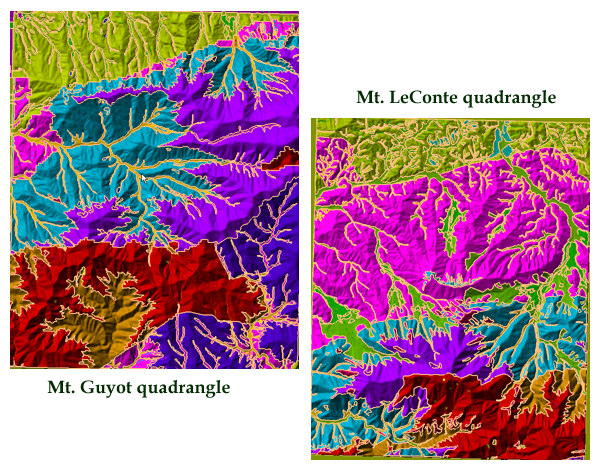 Evaluation:
---- Accuracy for model develop area – Mt. Guyot: 30 meter resolution - 96.43% (54 out of 56); 10 meter resolution – 98.21% (55 out of 56)
---- Accuracy for extrapolated areas – Mt. Le Conte: 30 meter resolution - 92.68% (38 out of 41); 10 meter resolution– 92.68% (38 out of 41)
---- Accuracy for extrapolated areas – Clingmans Dome: 30 meter resolution - 97.67% (42 out of 43)