Emily J. Diaz-Vallejo
Position title: Ph.D.
Email: ejdiaz3@wisc.edu
Address:
Advisor: Erika Marín-Spiotta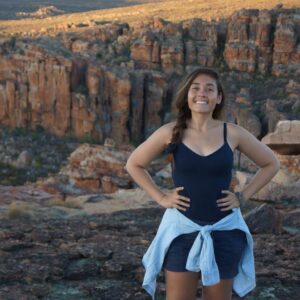 I am a tropical ecosystem ecologist interested in soil biogeochemistry, ecology, and response to disturbances. My work focuses on understanding how disturbances, such as fire, land-use change, and environmental change, can affect soil functionality and health.
Publications:
Marin-Spiotta, E., E.J. Diaz-Vallejo, R.T. Barnes, A. Mattheis, B. Schneider, A.A. Berhe, M.G. Hastings, B. Williams and V. Magley. Exclusionary behaviors reinforce historical biases and contribute to loss of talent in the earth sciences. (Accepted)
Primack, R., T. Miller, C. Terry, E. Marin-Spiotta, P. Templer, A.A. Berhe, E. Diaz-Vallejo, M. Hastings, V. Magley, A. Mattheis, B. Schneider and R. Barnes. Historically excluded groups in ecology are undervalued and poorly treated. (Accepted)
Díaz‐Vallejo, E. J., Seeley, M., Smith, A. P., and Marín‐Spiotta, E. (2021). A meta‐analysis of tropical land‐use change effects on the soil microbiome: Emerging patterns and knowledge gaps. Biotropica, 53(3), 738-752.
Press releases:
Interviewed for EOS "Hostile workplaces drive minorities from the geosciences" by Robin Donovan. 14 December 2021 https://doi.org/10.1029/2021EO210634