Chase Kasmerchak
Position title: Ph.D.
Email: cckasmerchak@wisc.edu
Address:
Pronoun(s): he/him/his
Advisor: Erika Marín-Spiotta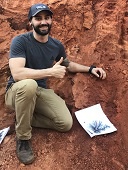 EDUCATION
B.S. Geography and Geoscience UW-Stevens Point, M.S. Geography UW-Madison
Interests
Soil ecology and biogeochemistry, soil organic matter formation and storage, microbially-mediated nutrient transformations, soil geomorphology
CURRENT RESEARCH
Broadly, my dissertation research examines carbon and nitrogen cycling and ecosystem function. One component of my work examines how disturbance-mediated shifts in genetic diversity of trembling aspen (Populus tremuloides) populations influences the chemistry, molecular composition, degree of microbial processing, sources, and mean residence time of aggregate- and mineral-associated soil organic matter. This chapter will incorporate a suite of advanced spectroscopic, high-resolution mass spectrometry, and developing time-dependent mean residence time models, constrained by radiocarbon. Other aspects of this research closely examine changes in microbial activity throughout the growing season, including litter decomposition, nitrogen transformations, enzyme activities, and changes in the size of bacterial/archaeal and fungal communities.
AFFILIATIONS
Soil Science Society of America, American Geophyiscal Union, Ecological Society of America, Soil Ecology Society, Geological Society of America