Ruth Trumble
Position title: Ph.D.
Email: rtrumble@wisc.edu
Address:
Pronoun(s): she/her
Advisor: Robert Kaiser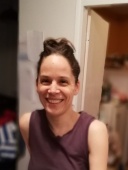 EDUCATION
M.S. Geography: The University of Tennessee, Knoxville, 2014
B.A. Geography: Hunter College – CUNY, 2012
Interests
Political geography, disaster preparedness, the politics of expertise, urban geography, Cold War urban planning, southeastern Europe, qualitative methods, disaster risk reduction, science and technology studies (STS), DRR infrastructure
RESEARCH AREAS
Political geography, urban disaster preparedness, southeastern Europe, disaster recovery
COURSES TAUGHT
Instructor of Record Introduction to Cartography, Summer 2020 and Summer 2018
Teacher Assistant Introduction to the City, UW-Madison Spring 2020
Our Digital Globe, UW-Madison Fall 2018, Fall 2020
Introduction to Human Geography, UW-Madison, Spring 2015
Introduction to the City, UW-Madison, Fall 2014
World Regional Geography, Geography of Human Rights, Population Geography – at the University of Tennessee, Knoxville 2012-2014
RECENT PUBLICATIONS
Trumble, Ruth. Forthcoming, 2021. "Rhythms of Crises: Slow violence temporalities at the intersection of landmines and natural hazards," book chapter in the volume, Geographies of Slow Violence: A Research Agenda. Shannon O'Lear, editor. Edward Elgar Publishing.
Trumble, Ruth. 2019. "Disaster Reduction Education and expertise: A proposal for unpacking the politics of knowledge production in DRE." Geography Compass 13(1), e12411.
Trumble, Ruth, and Micheline van Riemsdijk. 2016. "Commodification of art versus creativity: The Antagonist Art Movement in the expanding arts scene of New York City." City, Culture and Society 7, no. 3: 155-160.
AWARDS AND HONORS
2020 – UW Madison Dept. of Geography Whitbeck Dissertator Award
2020 – UW Madison Graduate School Conference Award
2020 – UW Madison Dept. of Geography Travel Award
2019 – Mellon-Wisconsin Dissertation Fellowship
2019 – European Geosciences Union Travel Grant
2019 – UW Madison Dept. of Geography Travel Award
2018 – UW Madison Graduate School Conference Award
2017-2018 – American Councils Title VIII Research Scholar Program, Academic Year
2017 – American Councils Title VIII Research Scholar Program, Summer
2017 – UW Madison Dept. of Geography Travel Award
2016-2017 – Foreign Language and Area Studies Fellowship (FLAS), Serbo-Croatian language study
2016 – American Councils Combined Research and Language Training Program, Serbo-Croatian
2016 – Scott Kloeck-Jensen, Pre-dissertation Travel Award
2016 – UW Madison Graduate School Conference
2016 – UW Madison Dept. of Geography Travel Award 2016
2015 – Foreign Language and Area Studies Scholarship, summer language study in Belgrade, Serbia
2015 – Scott Kloeck-Jensen, International Internship Award – declined