Joe Mason
Department Chair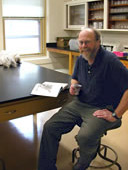 Education
Ph. D., University of Wisconsin-Madison, 1995 Full C.V.
Research Areas
Eolian and hillslope geomorphology, loess stratigraphy/sedimentology, soils and paleosols, Quaternary landscape evolution, Quaternary paleoenvironments of the Midwest, the Great Plains and northern China
Current Research
Response of dune fields and dust systems to past and present climate change in northern China, buried soil carbon and its role in the carbon cycle, soil response to vegetation change across the prairie-forest boundary. Data from completed projects: Peoria Loess Thickness Data from Nebraska, Nebraska Holocene Loess and Soils Database (email me to check status).
Courses Taught
Geog 127: Physical Systems of the Environment
Geog 320: Geomorphology
Geog 329: Landforms and Landscapes of North America
Geog 342: Geography of Wisconsin
Geog 344: The American West
Geog 525: Soil Geomorphology
Geography 527: The Quaternary Period
Recent Publications
For a complete list of publications and citations, go to my Google Scholar profile
Contact Information
Mailing Address:
University of Wisconsin
Department of Geography
207 Science Hall 550 North Park Street
Madison, WI 53706-1404