"It is never too late to start learning."

Randy Sincoular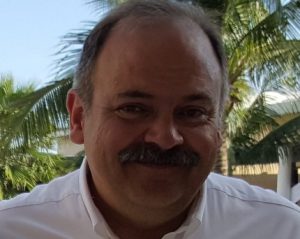 Which program did you participate in and when?
I completed the online masters in GIS and Web Development in December 2018.
What is your current job?
I am currently a Senior IT Analyst at a local gas/electric utility and most recently, started as an instructor for the online intro to Geocomputing at UW Madison – the same program I went through.
Could you tell us a little about your career and education path?
I got a B.S. degree in geography with a minor in business from UW-Green Bay. I started out working in the GIS lab at UWGB and then worked at the City of Milwaukee in their IT/GIS department. I worked at the Wisconsin D.O.T. in Madison where I developed a Highway Safety GIS application to show crashes on state highways. Currently at an electric/gas utility working in the GIS department, supporting GIS applications and developing new GIS functionality
In what ways did your experience with GISPP prepare you for/ enhance your career?
It gave me a lot more confidence in my abilities. Plus, I learned some of the latest web based GIS tools and applications.
What advice would you give current students?
Be prepared to work hard and don't forget to ask questions of the instructors.
What do you like to do for fun?
I have a cabin in northern Wisconsin, so I like to spend time in the outdoors. I live on the outskirts of Madison, on top of a drumlin, so it is very enjoyable looking over the countryside.