"Each course has built on the last one, which is really helpful since it reinforces what you just learned."

—

Todd Harrington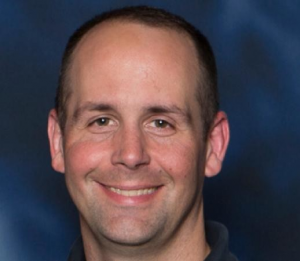 Meet Todd Harrington, one of Esri's Development Center Students of the Year. The purpose of this award is to recognize outstanding achievements in developing novel tools or methods for geographic analysis. Todd is earning his Masters degree in GIS & Web Programming while serving as Manager of Engineering & Operations Support at Union Power Cooperative in North Carolina. Representative of his outstanding work is a web app that supports visualization and analysis of power outages across the Cooperative's territory.
Check out Todd's web app with the link above!
Tell us about yourself:
I graduated from University of North Carolina at Charlotte with a B.S. in Geography. After graduation I went to work for a commercial real estate company where I did site analysis and other gis work. I did this for four years and then an opportunity opened up in 2007 to become a GIS Administrator at Union Power Cooperative, an electric distribution company. I started and managed a $1.4 million inventory of our whole system. The vision I had, wasn't going to be possible with the proper data as the foundation.
The inventory finished up in 2009 and I spent the next few years implementing other technologies that would use this data and getting to know other departments on how they used the data. In 2012 I became the Engineering & Operations Systems Administrator, where I would be responsible for all applications and system used in the E&O group and also the liaison between our Information Technology group and E&O. This helped me communicate to both sides what was going on an any work the other might be doing that would affect there other.
During this time Esri had rolled out their Dashboard for the web, I took that template and configured it to shows the data that was important to us and the other groups in our originations, since I knew how they used the GIS data from my previous meetings. In 2012 I won the ESRI SAG award for that work and also recognized from the NRECA for Best Application of Electronic Communication.
In 2015 I became the manager of E&O support, where I would be responsible for more areas that used the technology. This allow me to implement more technology to help some processes that needed attention. In 2016-2017 I attended the NRECA MIP in Madison, WI at the University of Wisconsin-Madison. This program is 6 weeks long and is broken into 2-week session where the same people from other cooperatives continue through the program. SO not only are we learning about the cooperative, but are learning from each other and building some great friendships.
By spending all the time in Madison, I really fell in love with the place and I always wanted to be able to do more with GIS that was I was capable at the time. I did some research and found that Wisconsin geography was well known and had just started the online program. What the program offered was exactly what I was looking for. I applied in Feb of 2017 and started taking a course that summer. Each course has built on the last one, which is really helpful since it reinforces what you just learned.
Last summer, I started to read and learn about JavaScript and leaflet since I would be taking 575 in the fall. This really help get a jump start on things and what came out of the final project is the web application for the outages within the last 30 days. We have Tableau on site, but we are limited to the number of users, and this application allowed me to share it with anyone within the company with no limitations and to me that is leveraging the technology. This program has given me the opportunity to learn something I have always wanted to learn and it's going to be exciting what else I can come up with and implement.
From a personal side, I've been married for 17 years and I have a 14-year-old girl and an 11-year-old son. I run not only for exercise but it helps me think and that's when I get most of my ideas it seems. And when time permits, I enjoying play Battlefront II on PlayStation.