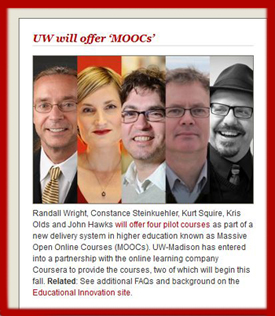 The University of Wisconsin-Madison will offer four pilot courses as part of a new delivery system in higher education known as Massive Open Online Courses (MOOCs).
Pilot courses include Globalizing Higher Education and Research for the 'Knowledge Economy', taught by Kris Olds, professor in the Department of Geography, and University of Bristol (United Kingdom) professor Susan L. Robertson. The course examines an array of issues related to the globalization of higher education and research. The main objective is to enable students to better understand how and why universities are engaged in globalization, as well as identify the key implications of this development process.
More information about UW–Madison's MOOCs, including course descriptions, biographies of the faculty, and frequently asked questions, can be found on the university's Educational Innovation website.