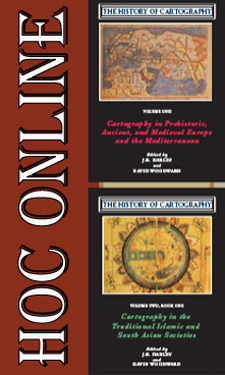 Volume Three, Cartography in the European Renaissance, was made available to the public on the University of Chicago Press web site on May 20, 2013. Earlier volumes in the series have been online since July 2011. The Press has converted all parts of each book—not only the chapters but also the prefaces, indexes, illustrations, captions, and cumulative bibliographies—into PDF files that can be read online or downloaded at no charge. A search function allows the user to search individual files or across all files at once for specified keywords.
Free online access to all published book in the series is available here.
More Project updates
Volume Six, Cartography in the Twentieth Century, is going to press on June 3rd! This volume is huge – consisting of one million words and 1,153 images. It will be in production for about 18 months before it appears in print. Digital access will follow in due course.
Work continues apace on Volume Four, Cartography in the European Enlightenment. Editorial work is well underway on about 85% of the entries while contributors finalize research and writing on the remainder.
The History of Cartography Project relies on the generous support of private donors and public foundations. Help the Project receive an additional 100K in matching funds from the National Endowment for the Humanities with your tax-deductible gift today! Support the History of Cartography Project