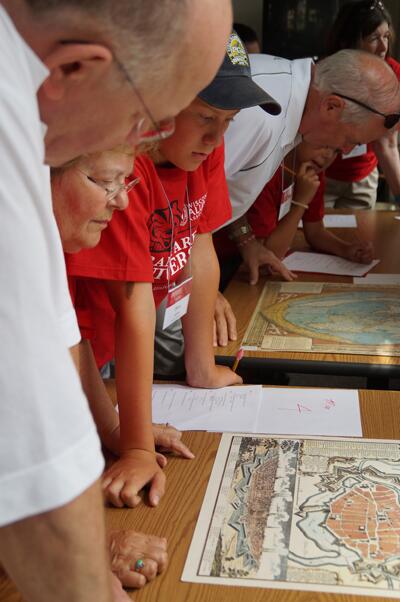 In late July the Geography Department hosted a two day "Cartography major" in coordination with the Wisconsin Alumni Association's annual Grandparents University. This award-winning, two-day program is a chance for children (ages 7 to 14) and their grandparents to come together and learn with and from each other on the UW-Madison campus.
Participants in our Cartography Major spent two days in and around Science Hall exploring maps and aerial photos, learning about the history of cartography, and drawing their own maps of the chaotic and construction-laden Library Mall.  They roamed Bascom Hill with GPS devices, then mapped their "data" in the computer lab with Geographic Information Systems (GIS) software. 
From 15th century maps of the world to the most cutting edge digital mapping technologies, the Cartography theme resonated with the grandparents and grandchildren alike.  Assistant Professor Rob Roth's amusing comparison of cartography and GIS technologies to the "Justins" (Justin Timberlake and Justin Bieber) got everyone's attention, while the "perspective" mapping activity on Library Mall showcased everyone's creativity while they illustrated their observations on paper using good 'ol fashioned colored pencils.  Over the two days the participants were encouraged to think differently about maps, including how we define a 'map' and the differences in how maps have been created and used throughout history.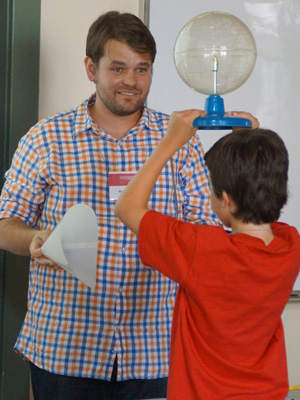 All of the participants successfully "graduated" from Grandparents University and Map Librarian Jaime Stoltenberg attended the graduation ceremony to present them with their Cartography Major diplomas.  It was an amazing two days for all involved.  Everyone in the Geography Department looks forward to next year's Grandparents University event!
For more information on Grandparents University visit: www.uwalumni.com/grandparents
See more photos from the GPU Cartography Major activities in Science Hall
at the UW Alumni Association or Geography Department Flickr pages.