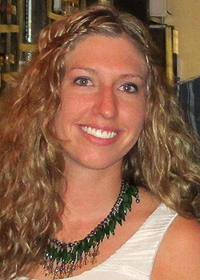 Alumna Allison Hegan (nee Kleine) finds fulfillment using the written word to bring attention to the earth's most urgent environmental and conservation issues.
Allison graduated in 2010 with a B.A. in Geography (People-Environment) as well as Environmental Studies and African Studies certificates. Originally from the Los Angeles area, her love of travel and ecosystem exploration has taken her many places throughout North America, the Caribbean, Central America, Europe, Australia, and New Zealand. She has lived in Brisbane, Australia; London, United Kingdom; and Madison, Wisconsin. She now resides in Roanoke, VA, tucked amongst the Blue Ridge Mountains, where she is pursing a career in conservation and communications.
Right out of college Allison started her own editing business, Purple Elephant Editing, in addition to working and volunteering at variety of conservation organizations over the years. Today she is the editor of a forthcoming endangered species book, No More Endlings: saving species one story at a time, which raises endangered species awareness as well as funds for conservation. Half of the royalties from the sale of the book will go to support wildlife conservation organizations. Contributors to the book include our very own Lisa Naughton and UW-Madison Nelson Institute's Adrian Treves, Cal DeWitt, Stephanie Dolrenry and Leela Hazzah.
We were excited to catch up with her and ask a few questions about her career and time with us here in Science Hall.
Q: How did your undergraduate degree in geography prepare you for your current career?
As a writer, the work I produce is only as good as the resources I have to utilize. Fortunately, my degree in geography was an ideal launching point for writing and editing material about which I care passionately. For as long as I can remember, I have had a deep passion and concern for conservation and wildlife. Through writing, I find that I can easily and coherently share my passion with others. I wouldn't say I am the best writer, but I share what inspires me and that tends to inspire others too. Given my geography degree's broad perspective on people's interactions with the natural world, I have always felt confident that I have a strong knowledge base from which to start writing about the causes I support.
Q: What is your fondest memory as a geography student at the UW-Madison?
Looking back on my days as a geography student, I would have to say that besides my fond memories of my professors and classes, I really enjoyed attending lectures in Science Hall. Coming from Los Angeles, a city with stark, boxy buildings, I was starved for beautiful, old architecture. Science Hall's bold bricks and worn, cozy interior fed my senses. It has so much character and just seemed to beckon learning and a bit of fun too.
I can recall one particular night of some serious studying and equally serious goofing around in Science Hall with some fellow geography friends. It was the end of our final semester in college and Chelsea Couette, Cheryl Yeung and I were in the building quite late working on our senior research project. When we had finally finished, we were so giddy (mostly due to lack of sleep) that we slid down all the Science Hall stair railings in celebration.
I can only hope this special building remains for the enjoyment of many geography generations to come.
Q: What are your future career goals?
Over the past few years I have found my voice through the written word.  Whether writing conservation articles or editing an endangered species book, I make every effort to use my writing as an opportunity to give animals and the natural world a voice. Whenever I find myself wondering if my contribution is enough or whether it is a futile endeavor, I remind myself of Edmund Burke's wise words, "Nobody made a greater mistake than he who did nothing because he could do only a little." This philosophy is central to my writing and to my commitment to conservation.
In the future, I want to take my writing to the next level and hope to one day be a conservation correspondent. I don't necessarily have to work for CNN or National Geographic Magazine, but rather, I want to be working in the field, making sure I am relaying the most reliable information to encourage involvement in the movement. Although I wouldn't call myself the next John Muir, I am happy to be doing my part in trying to make the world a better place and I am grateful for my degree in geography, which helps make this possible.
Find our more about Allison and her work at www.allisonhegan.com and her Facebook page, Purple Elephant Editing.