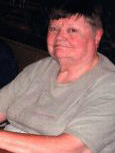 On Saturday, March 21, 2015, the Geography Library hosted a memorial gathering for Miriam Kerndt. Miriam was the head of the Geography Library from 1968 to 1999 and was the driving force in solidifying the Geography Library in Science Hall. Miriam passed away peacefully on Sunday, January 4, 2015 at her Madison home at age 87.
Miriam was born in Baraboo, Wisconsin on July 28, 1928. She attended Baraboo High School (1942-1946), then completed her Bachelor of Science degree at the University of Wisconsin-Madison in 1950, where she also received her Masters Degree in Geography in 1954. A fiercely independent and intelligent woman, Miriam continued her academic work by joining the University of Wisconsin-Milwaukee faculty in 1955, and the University of Manitoba from 1956-1968. She returned to her beloved Madison in 1968 where she headed the Geography Library at the University of Wisconsin-Madison for 33 years, until her retirement in 1999.
The epitome of a lifelong learner, Miriam was also passionate about the arts, especially opera and theater with annual trips to the Chicago Lyric Opera, the Stratford Shakespeare Festival, and the American Players Theatre productions in Spring Green. She was an enthusiastic patron of the arts, contributing to local arts organizations. Miriam fulfilled her intellectual curiosity throughout her life, continuing to attend community classes right up until her death.
Miriam's intellect was also immediately evident to anyone who dared to debate politics with her. As an unapologetic liberal, she supported social programs and efforts that benefited women, education, and ethical government. Despite her strong intellect and opinionated manner, Miriam was tender-hearted and caring toward her close-knit group of friends and her family members.
The memorial in the Geography Library was attended by Miriam's sister (Carolyn), niece (Ann) and two nephews (Dave, Richard), and other family members. Besides family, attendees included members of four distinct groups with many crossovers: geographers, neighbors, librarians and opera/theater buffs.
Many attendees shared memories, stories and appreciation. The family provided pictures and poems. Coffee, tea and cake were enjoyed.