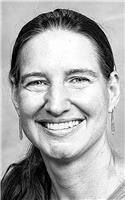 It is with great sadness that we report the death of alumna Prof. Heidi (Glaesel) Frontani from a sudden illness. Heidi received her Ph.D. from the department in 1997 under Prof. Matt Turner, after first working with Prof. Jim Delehanty (now Executive Director of UW's Institute for Regional and International Studies).
Heidi Glaesel Frontani, 50, passed away at Alamance Regional Medical Center on February 26, 2016. She was a native of Queens, New York. Heidi pursued her passions for art, education, and human outreach through Cornell University before receiving her Ph.D. in Geography from the University of Wisconsin at Madison.
Heidi found her life's passion in Africa as an instructor for WorldTeach, in Kenya, which continued with her work at Elon University, where since 1998 she served as Professor of Geography and African studies, Chair of the Department of History and Geography, and a Leadership Scholar. She mentored the 2010 class of Periclean Scholars, who, under her guidance and in conjunction with Ghanaian partners, built and established a health center in Kpoeta, Ghana.
Heidi devoted her life's work to a deeper public understanding of the African continent and the development which spurs its progress. Her blog, African Development Successes, reaches thousands of readers in more than thirty countries weekly, and her stories, which have profiled a vast array of community-minded African citizens from up-and-coming entrepreneurs, to sports stars, to established statesmen, have appeared in newspapers and periodicals internationally.
Heidi is survived by her parents, Erika and Henry Glaesel; her sister and her family, Gaby and Tom Mulligan and their daughters, Nicole and Kelly; her loving husband, Michael Frontani; and her son, Dante Frontani. She is remembered as an inspiring teacher and a tireless advocate for a shared global understanding that is both accurate and uplifting. Her family, friends, and numerous readers will miss her dearly.
There will be a public viewing from 1 until 6 pm on Tuesday, March 1, 2016 at Lowe Funeral Home and Crematory. There will be a gathering of friends at Elon University on Monday, February 29, 2016 at 4:00pm in the Sacred Space of Numen Lumen Pavilion. You may sign the online register book at www.lowefuneralhome.com.