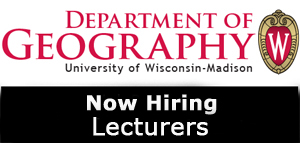 The Department of Geography seeks to fill 2 lecturer positions for the Fall 2016 semester. Details can be found at the following links:
Geog 370 (Intro to Cartography) 40%
Geog 378 (Geocomputing) 40%
To ensure consideration, applicants should submit resume and cover letter (preferably as a single PDF document) to Sharon Kahn by July 19, 2016. Contact Sharon if you have questions.