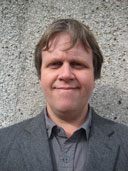 What led you to geography?
I was attracted to geography because it is the discipline that is among the best at taking a holistic perspective on environmental issues. That is, it takes ecology and science seriously, but it also take socio-cultural, economic and political issues seriously as well.
What excites you about Geography?
I am excited about geography because it is grounded in a discipline, but also encompasses the type of diversity that seems necessary in the complex world we live in today. That is, it covers a wide range of sub-disciplines, from the physical and biological sciences to the social studies and humanities.
Why Madison?
UW-Madison is very fortunate to have one of the best geography departments in the country and the world. We have excellent facilities, but also great faculty, academic staff, graduate students and undergrad majors. What more could one ask for?
Why is it important to have geographers out in the world?

Geographers serve an important role in the world, as we work on the ground in various parts of the world in order to make sense of some of the most important issues of our times. We are also among the best at linking the physical and biological sciences with the social sciences and humanities, and that is crucial for making good decisions about crucial social, economic and environmental issues.