The annual UW Science Expeditions Campus Open House is a public engagement event that shares science happening at UW-Madison with a wide audience. All events are free and open to all ages — this year's event was held on Friday, April 8th. The Geography Department participates in Science Expeditions each year by hosting an open house event in Science Hall. This year marked a special occasion — we were joined by staff from the Wisconsin Geological and Natural History Survey who showcased cutting edge digital geologic mapping projects and offered fun activities for all.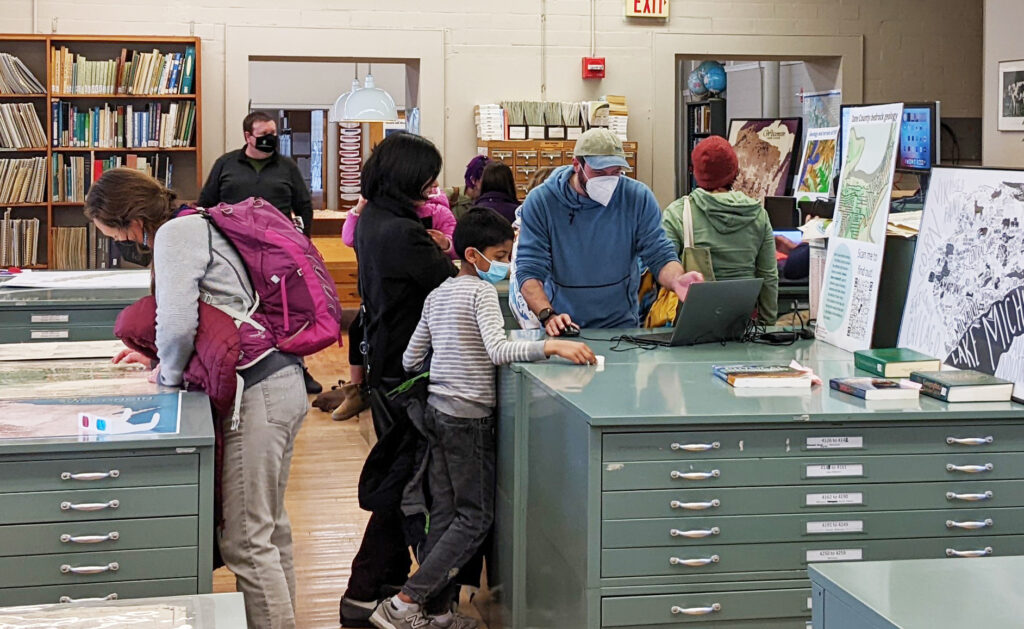 The event was well attended, even with weather conditions bringing snow showers in April! We had a steady stream of visitors from 3:30pm until the event wrapped up at 6:00pm. The open house took place in the Robinson Map Library, where student assistants in the library (along with librarian Jaime Martindale) curated a map display showcasing the breadth of thematic maps in the cartographic research collection. In addition to serving as host to visitors in the library, we also welcomed participation from Jude Leimer of the History of Cartography (HoC) Project, who offered a sampling of the impressive HoC volumes on display and a fun historic map quiz that was enjoyed by children and adults alike!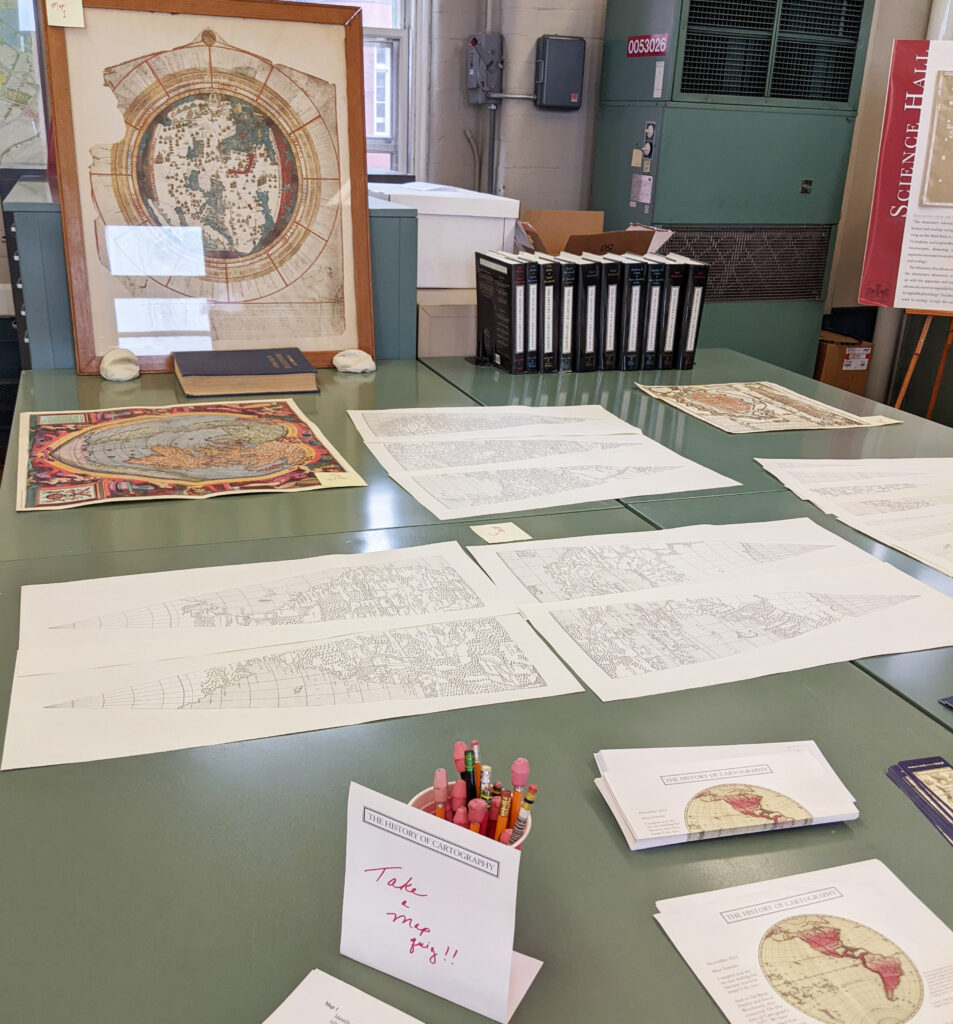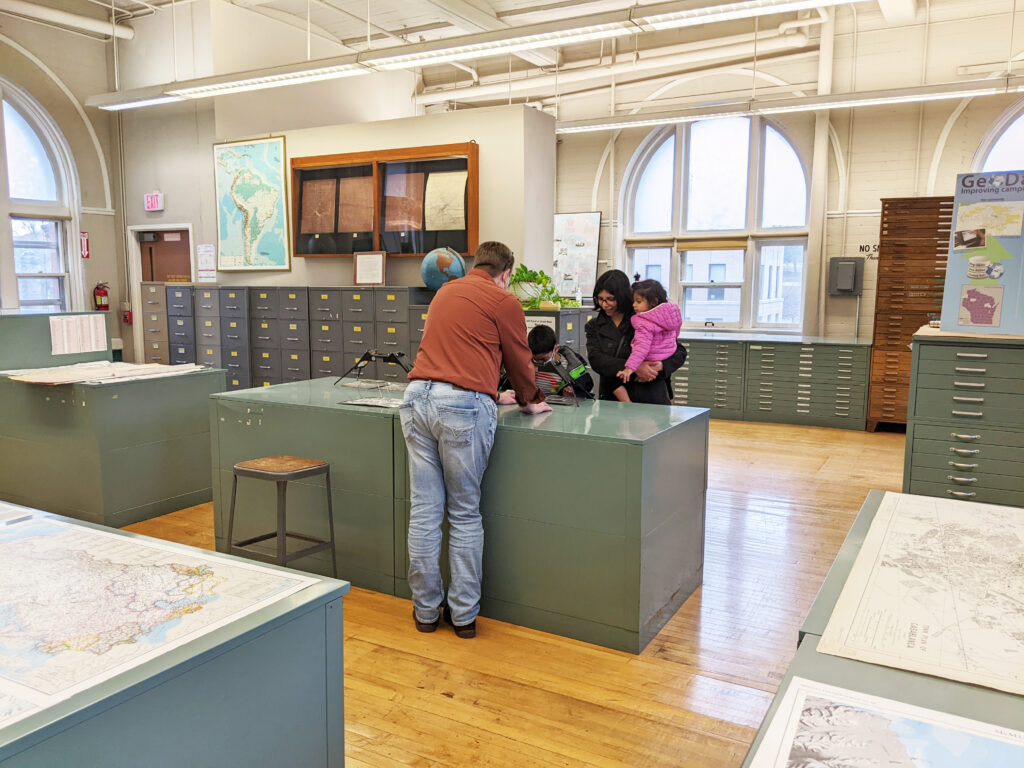 Tanya Andersen from the UW Cartography Lab brought some examples of maps and atlases that staff and students in the lab have worked on for different clients. The wide variety of projects that happen in Cartography Lab are always interesting topics of conversation. Attendees asked Tanya great questions about how the maps are made, and why clients are drawn to the lab for maps they need for research publications, textbooks, websites, etc. Tanya was also able to talk with visitors about recent efforts to create new K-5 Geography curriculum in Wisconsin.
Jim Lacy, Associate State Cartographer, offered his expertise in showing attendees how to view historic aerial photos in stereo, by using vintage variable-power stereoscopes. It was amazing to see the look on everyone's faces once they were able to see the landscapes around Devil's Lake and Rib Mountain pop up in 3-D from the seemingly 'flat' images.
The biggest hit of the evening had to be the WGNHS staff and the amazing displays and activities they offered during the open house event. Steve Mauel showed an interactive display of how private well locations are mapped around Wisconsin, and what geologic layers are found in those areas. Carsyn Ames brought play dough, and attendees were encouraged to create 'topography' similar to that shown on a map of Door County with beautiful shaded relief. Matt Rehwald, Caroline Rose and Nick Rompa also showed some of the interesting geographic information systems (GIS) projects currently underway at the Geological and Natural History Survey.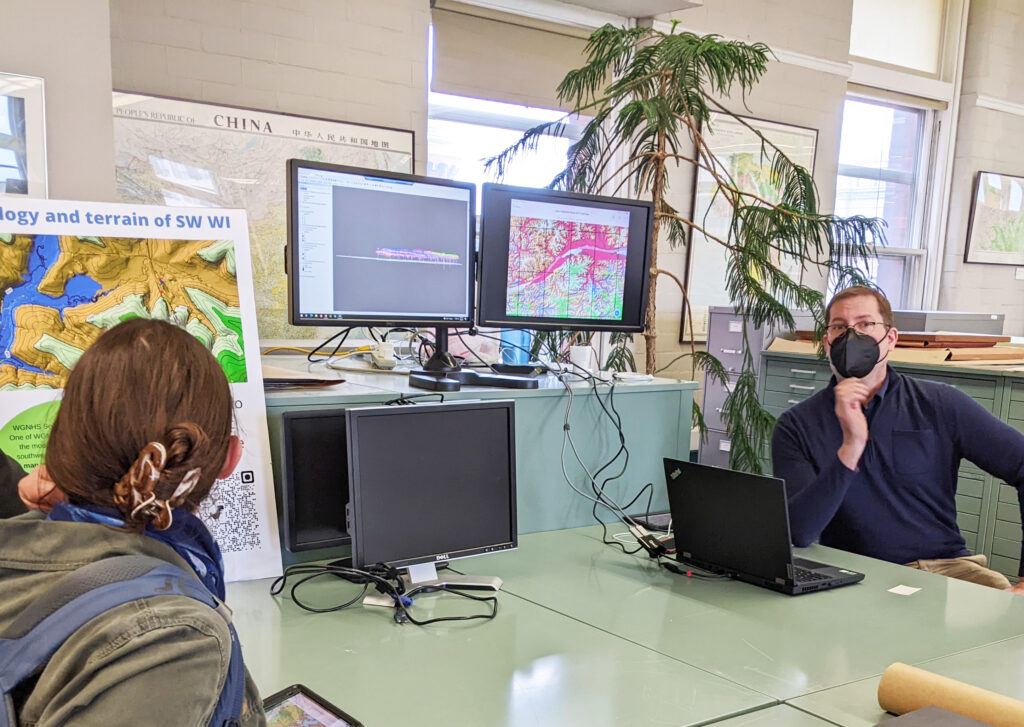 We'll definitely call the 2022 Science Expeditions Open House in Science Hall a success! We look forward to welcoming more visitors at next year's event.