The Department of Geography is home to several research labs where students, faculty, staff, postdocs and scholars work together to develop and apply methodologies and practices aimed at answering a wide variety of geographic research questions. Read on to learn more about our research labs and the interesting work happening in each one!
Andresen Research Group
At the Andresen Research Group we focus on earth system science applied to land-atmosphere carbon dynamics under the effects of climate change. Particularly, we specialize in multidisciplinary research that combines system ecology, hydrology and biogeochemistry to better characterize higher-level environmental processes over spatial and temporal scales. Visit christiangandresen.com for more information.
Contact information:
Professor Christian Andresen: candresen@wisc.edu
Biogeochemistry and Biogeography (BioGeoLab)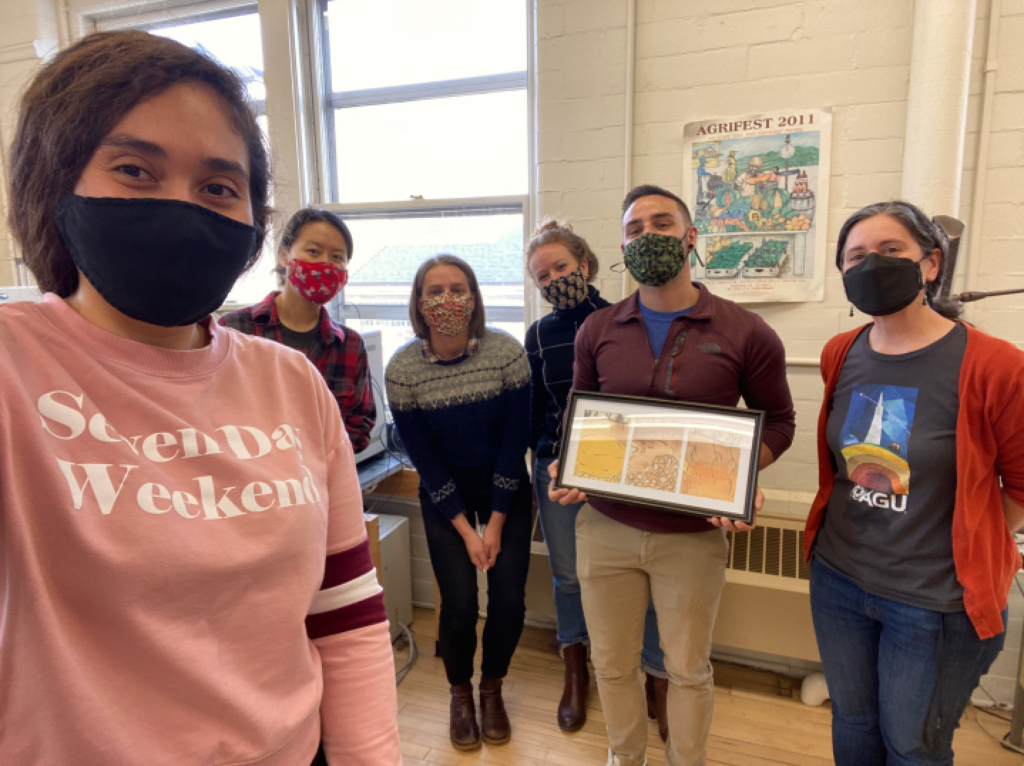 The Marin-Spiotta Biogeography and Biogeochemistry (BiogeoLab) Research Group in the Department of Geography at the University of Wisconsin-Madison investigates how landscape disturbances due to changes in climate and land use alter the accumulation and loss of biomass and biologically active elements within and across ecosystem boundaries. Our research draws from biogeochemistry, ecosystem ecology, soil science and biogeography. We combine field and laboratory measurements and geochemical techniques to identify elemental sources and sinks and quantify pools and process rates. Our research cuts across different spatial scales: from microscopic interactions between organic matter and mineral surfaces in soils, to stand-level forest dynamics, to regional soil carbon inventories. We also conduct work on transforming workplace climate and broadening participation in research environments. Visit https://marinspiotta.wordpress.com/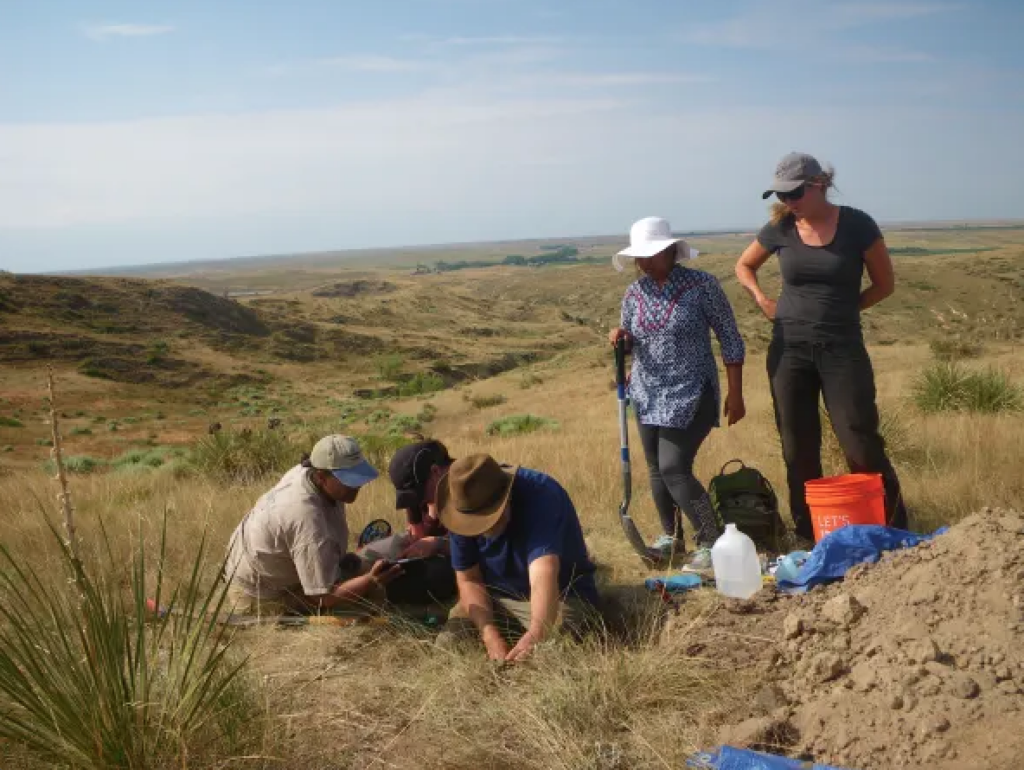 Meetings: Weekly
Members: 3-4 graduate students, 1-3 undergraduate students
Contact information:
Professor Erika Marin-Spiotta: marinspiotta@wisc.edu
Chemical Biogeography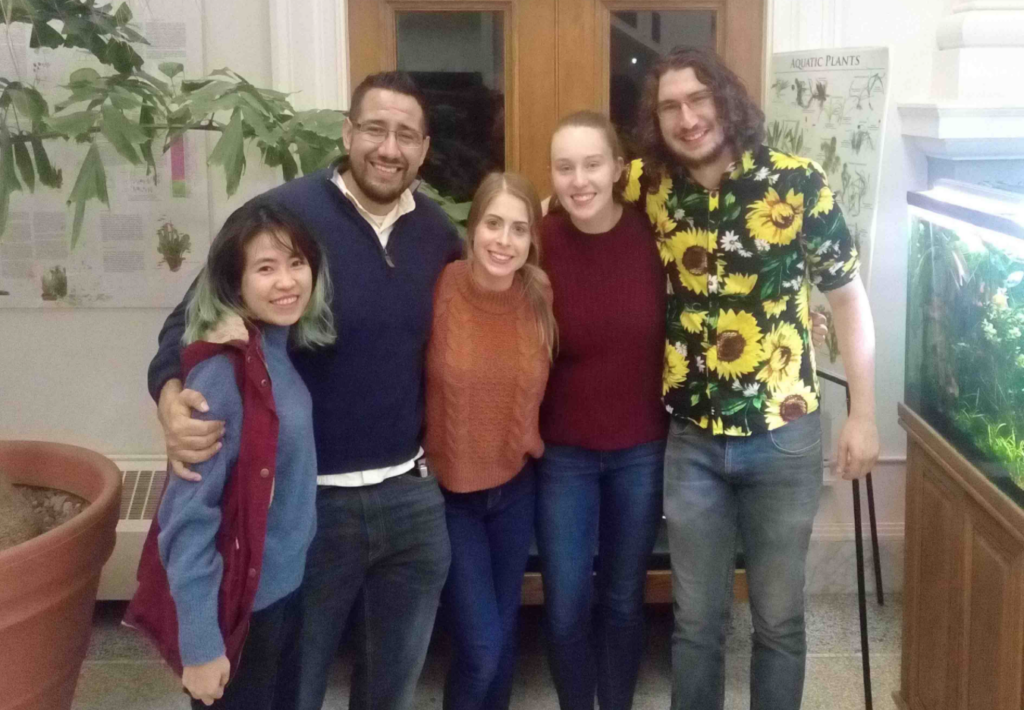 The Keefover-Ring Chemical Biogeography Lab focuses on chemical ecology: how the specialized chemicals (e.g. essential oils, alkaloids) that plants produce vary over landscapes and how the ecological interactions (e.g. pollination, herbivory) that they mediate change as a result of this variation. Our research focuses on three important questions: 1) How do species vary in their secondary chemistry, 2) How does this variation affect chemically-mediated community interactions, and 3) What selective forces maintain or change plant chemical diversity? To answer these questions we have worked on a diversity of plant and insect species, including commercial and agricultural species, from a variety of ecosystems, ranging from the Mediterranean to alpine and boreal ecosystems in Europe and North America. The research approach incorporates measurements across environmental gradients, common garden experiments, and field and laboratory manipulations and has important implications for ecological function, agricultural productivity, response to changes in climate, and species losses. Visit keefover-ringlab.botany.wisc.edu/ for more information!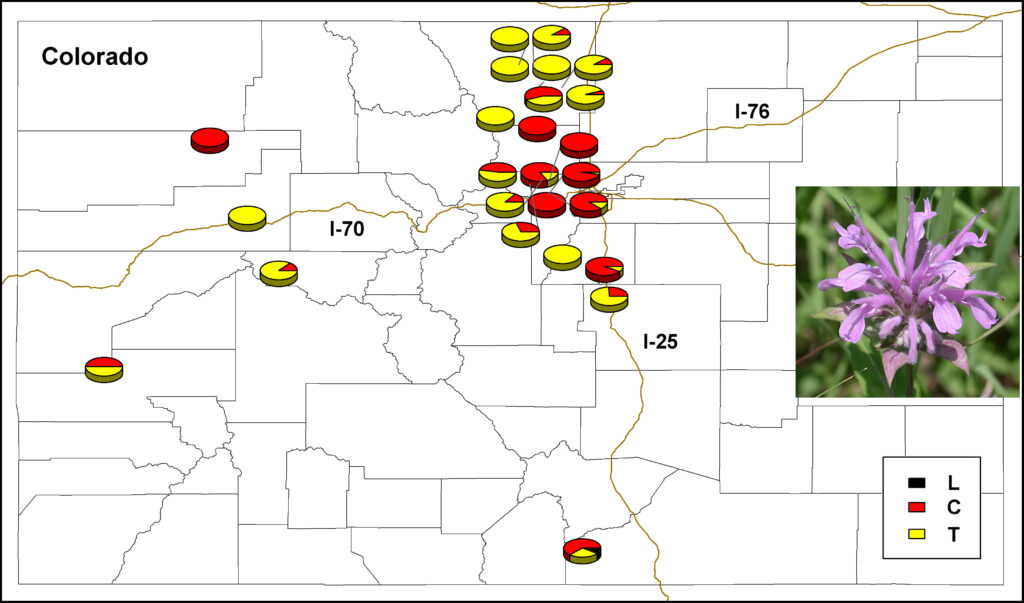 Meetings: Weekly lab and student meetings.
Members: Currently, three undergraduate and five graduate students.
Contact info:
Professor Ken Keefover-Ring: ken.keefoverring@wisc.edu
https://keefover-ringlab.botany.wisc.edu/
Geospatial Data Science (GeoDS Lab)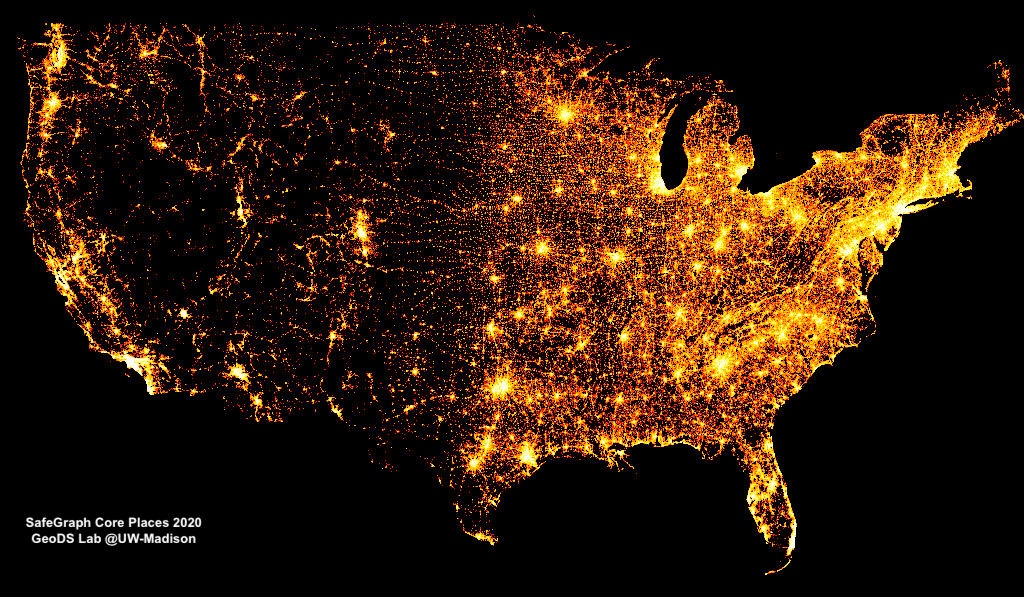 Geospatial Big Data is an extension to the concept of Big Data with emphasis on the geospatial component and under the context of geography or geosciences. It is used to describe the phenomenon that large volumes of georeferenced data (including structured, semi-structured, and unstructured data) about various aspects of the Earth environment and society are captured by millions of environmental and human sensors in a variety of formats such as remote sensing images, crowdsourced maps, geotagged videos and photos, transportation smart card transactions, mobile phone data, location-based social media content, and GPS trajectories. In the GeoDS Lab, we conduct researches during the life cycle of large-scale georeferenced data collection, access, storage, management, analysis, modeling, and visualization by utilizing spatial statistics and machine learning approaches. Research areas range from geospatial artificial intelligence (GeoAI), human mobility, urban informatics, transportation, public health, to location business intelligence, and so on. GeoDS lab's research projects are funded by NSF, WARF, Wisconsin Department of Health Services, Microsoft AI for Earth, and several geospatial industry companies. Visit https://geods.geography.wisc.edu/ for more information!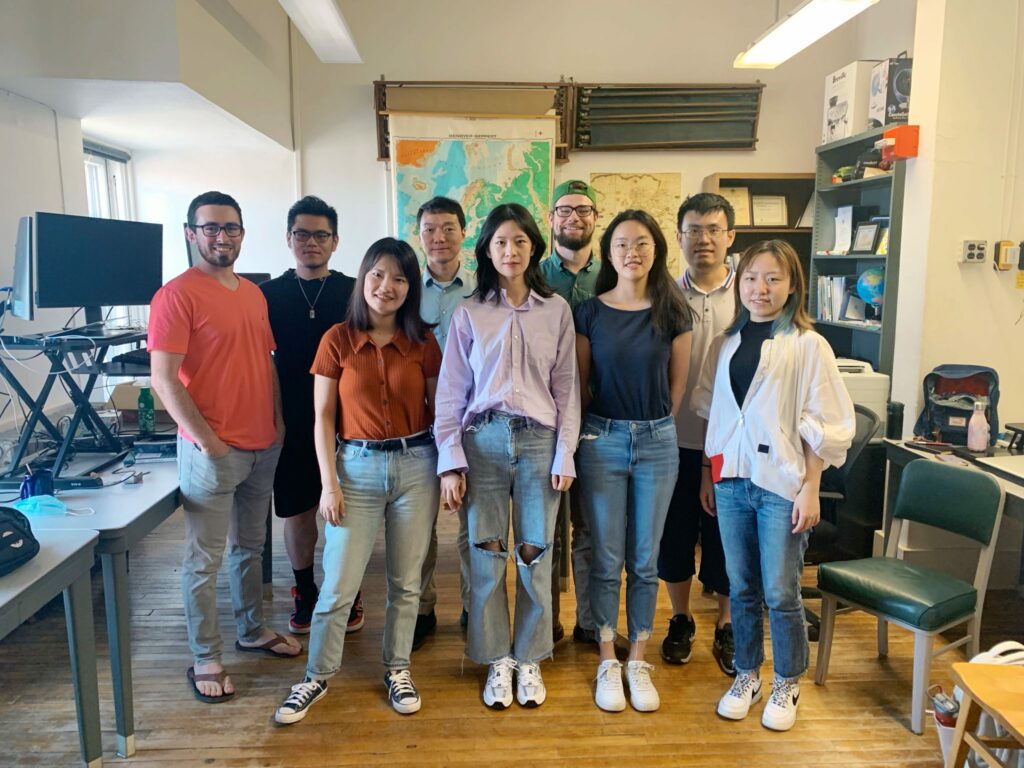 Meetings: Weekly
Members: 8-10
Contact information:
Professor Song Gao: song.gao@wisc.edu
Gibbs Land Use and Environment (GLUE)
In the Gibbs Land Use and Environment Lab (GLUE), we study human environment interactions and aim to reconcile forest conservation, climate change, and food security by informing policy and market-based strategies. We use GIS, remotely sensed imagery, econometrics, Big Data, and commodity supply-chain analysis combined with stakeholder interviews in the field to understand how and why humans use land around the world. We also quantify what these land-use changes mean for ecosystem services, particularly carbon storage and emissions. Our work bridges disciplines, scales and perspectives by linking the top-down global view with the detailed place-based view provided by case studies and field work.
We aim to make change in the world by conducting scientific research immediately relevant to policymakers, industry, non-governmental organizations and others working on the ground. In GLUE, we frequently establish partnerships with policy and action-focused organizations and industry, and work with them to identify tipping point questions that could inform our scholarship. We are also committed to communicating our science through the media and policy briefs for general audiences. Visit www.gibbs-lab.com for more information.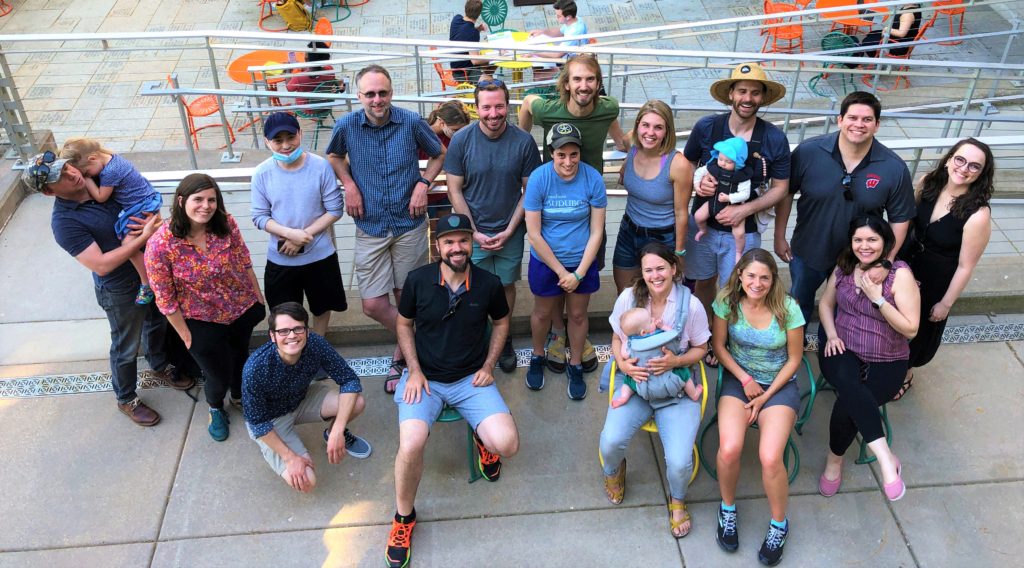 Collaborations: We collaborate frequently with others at UW, including Prof Lisa Naughton and Prof Jeremy Folz among many others.
Meetings: We typically meet weekly with smaller groups and every other week as a full team.
Members: We typically have been 15-20 people including undergraduate and graduate students as well as staff scientists, research specialists, and post-docs.
Contact information:
Professor Holly Gibbs: hkgibbs@wisc.edu
Paleovegetation
At the Paleovegetation Lab we study plant species responses to climate and other environmental change at local to global scales. We do a mixture of primary data collection, database building, and ecological modeling. Our primary data work focuses on collecting sediment cores from lakes and then analyzing the sediments to reconstruct past ecological and climate histories through a mixture of different proxies – e.g. radiocarbon dates (to establish time), pollen (vegetation), charcoal (fire history), and organic and isotopic indicators of past climates. We also help lead efforts to build global paleoecological data resources so that we can study global patterns of vegetation responses to past climate change and human effects.
Collaborators: Simon Goring
Meetings:
Weekly lab meetings, weekly meetings with IT group, weekly individual meetings with grad students and postdocs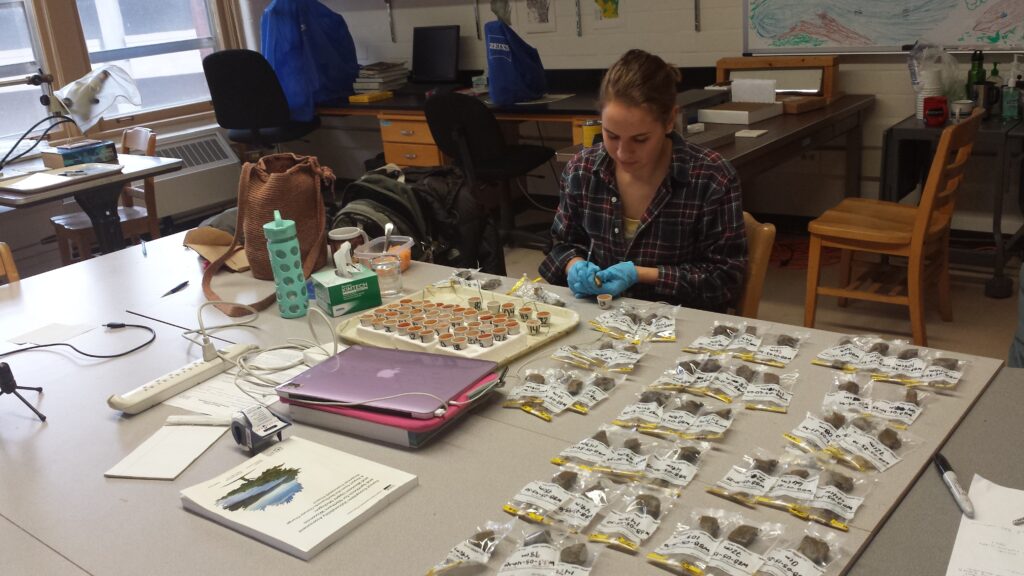 Members: 1-2 postdocs, 2-4 graduate students, 2-4 undergraduates
Contact information:
Professor Jack Williams: jww@geography.wisc.edu
https://williamspaleolab.github.io/
https://www.neotomadb.org/
Spatial Computing and Data Mining
The spatial computing and data mining lab's research bridges the gap between Geographic Information Science (GIScience) and Computer and Information Science (CIScience) by generating new computational algorithms and methods to solve computing challenges and big spatial data analysis with applications in earth science and geography, such as natural hazards, human mobility and digital agriculture. In particular, our research focuses on the following three interlocked areas: (1) Spatial Computing and Optimization, which enhances computing, data mining, artificial intelligence, and computer vision technologies by incorporating geographic data, principles, and theories; (2) Spatial Big Data Analytics, which synthesizes novel technologies and data to solve geographic problems by developing new spatial data analytics and fusion methods; and (3) Spatial Science for Social Good, which applies Spatial Computing, Spatial Data Science, and Big Data to a wide range of social and environmental problems. Visit https://scdm.geography.wisc.edu for more information.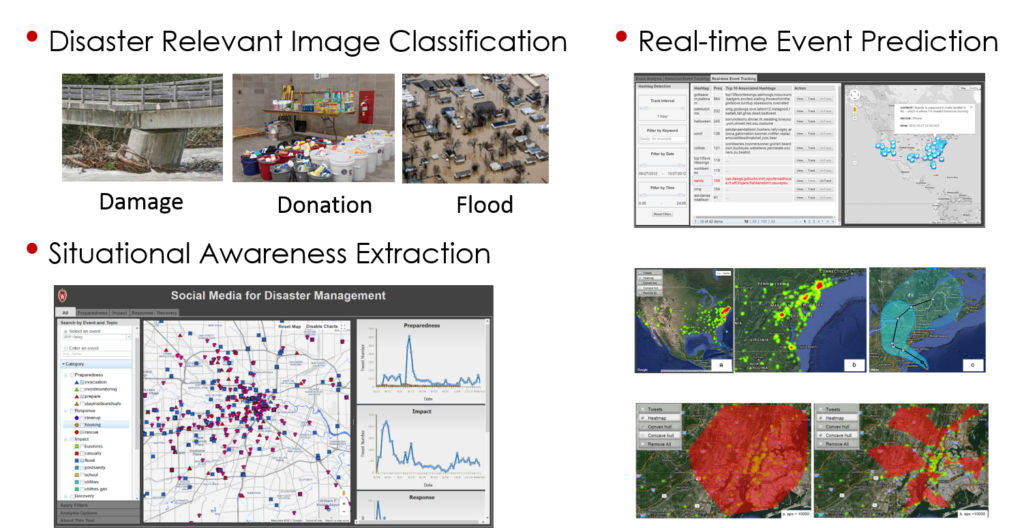 Meetings: Weekly
Members: 8
Contact information:
Professor Qunying Huang: qhuang46@wisc.edu
Thank you to all of the lab group leaders who took the time to write such thoughtful details about their labs. We hope you enjoy the piece!