Special thanks to UW-Madison Geography Professor Matthew Turner for sharing this research story. We hope you enjoy reading about some of the amazing work our faculty and students are currently involved in.
By: Turner, M.D., Carney, T., Lawler, L., Reynolds, J., Kelly, L., Teague, M.S., Brottem, L.
The Independent Evaluation Group of the World Bank (IEG) requested a group of UW-Madison faculty and graduate students to evaluate the Bank's approach to building climate resiliency in dryland Africa. Tanya Carney (Nelson), Laura Lawler, Jules Reynolds, Molly Teague and Matt Turner critically reviewed the Bank's resilience framing and suggested improvements that would take more seriously the political economic processes that produce climate vulnerability. Building from this work, the IEG requested a second phase of work focused on its Great Green Wall (GGW) portfolio.
The Great Green Wall is an environmental rehabilitation program stretching from Senegal to the west to Ethiopia to the east. Originally proposed by African leaders, it has gained widespread support from multilateral and bilateral donors for the image painted by its promoters as a wide swath of trees to hold back the expanding Sahara desert. Considerable funds have been expended with an additional 16 billion $US committed by world leaders at the One Planet Summit of January 2021. The World Bank is one of its major donors. Dominant discourse presents the GGW as an environmental rehabilitation program that builds dryland resilience, leading not only to environmental improvement but also reduced vulnerability of the poor ("win-win").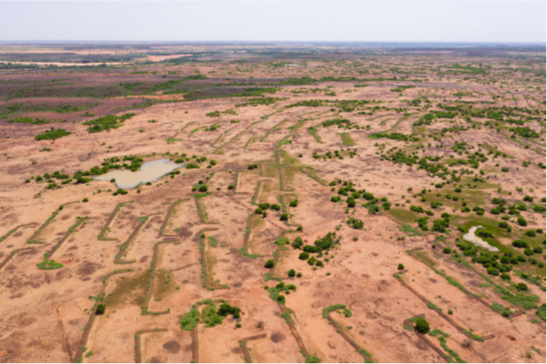 The team reviewed project documents of GGW projects across twelve countries focusing on the conceptual framing of these projects, their activities, the degree to which they targeted the truly poor, and their social and environmental impacts. This review was supplemented by fieldwork in Niger by IEG collaborators. Our analyses reveal that the GGW program deviates strongly from its original afforestation vision with many projects actually implemented outside of dryland areas. Moreover, project design shows little attention to identifying where vulnerability lies within communities enrolled in projects nor targeting project benefits to the most vulnerable. When afforestation is involved, these efforts generally occur on common lands held by local communities with little attention addresses how short-term enclosures (for tree nurseries) and longer-term enclosure (through private property claims) affect the resilience of different groups who are particularly dependent on these common resources. Niger fieldwork demonstrates that afforestation projects become sites of elite capture with little positive and in fact sometime negative effects on the most vulnerable.
These findings have been published in Land Use Policy which has generated significant broader interest. Findings were also presented to the World Bank board by IEG staff who report that there will be now be greater attention for monitoring project impacts, clarifying user rights in project areas and better identification and targeting of the most vulnerable for these projects in the future. A photojournalism piece by our collaborators in DAWNING and IEG (Lauren Kelly) has been published in the New York Times.
This initial work led to an invitation from the Annual Review of Environment and Resources to write a global review entitled Great Green Walls: Hype, Myths, and Science. This review traces the history of the idea of green walls as a form of mass afforestation in dryland regions of the world along with an assessment of their ecological and social impacts. Foci are the Northern China and Northwest Africa are two of the most important regional green wall initiatives. Along with a UW-Madison team (Anika Rice, Emily Fornof, Aaron Suiter of Nelson, and Matt Turner), an international team of scholars are part of this collaborative project (Diana Davis of University of California at Davis, Pierre Hiernaux of France, Emily Yeh and Emma Loizeaux of University of Colorado, and Zhuodong Zhang of Beijing Normal University).
Turner, M.D., Carney, T., Lawler, L., Reynolds, J., Kelly, L., Teague, M.S., Brottem, L., 2021. Environmental rehabilitation and the vulnerability of the poor: The case of the Great Green Wall. Land Use Policy, 105750.