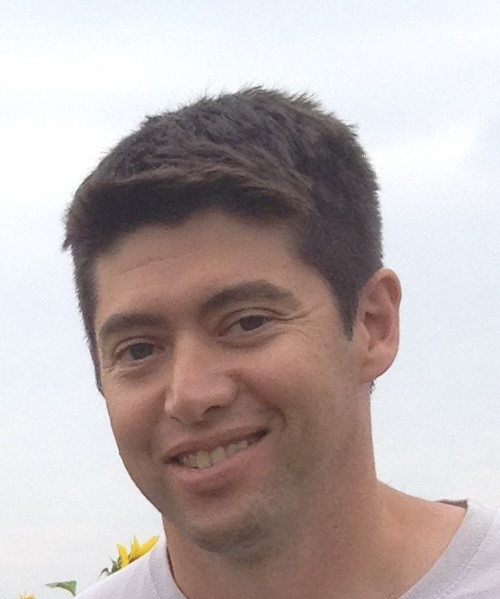 Name: Felipe Avila
Professional Title: GIS Coordinator and Compliance Officer
Employer: Wisconsin Historical Society
Undergraduate Degree Information: Ohio State University, BA Political Science and Anthropology
UW Geography Program Information: GIS Certificate (now GIS Professional Programs/GISPP)
UW Geography Graduation Year: 2002 (Academic Year 2001-2002)
Q1. Can you tell us a little bit about your educational path and academic interests?
I started out as a political science major, and I took a few anthropology classes to fill in some credits. I got into archaeology and by the end, I wound up with a minor. I always liked technical drawing and being outside, so I ended up working for a contract archaeology company in Ohio. They ran out of work for me, and I heard there was work up in Wisconsin so off I went to keep shovel bumming. I caught on with the Historical Society's Musem Archaeology Program (MAP), after working for a little bit at the capital and deciding the politics thing was not for me. I got married and we were talking about having kids, and I did not want to be on the road 6-7 months out of the year, so I decided to go back to school. The GIS Certificate program looked like a really good fit. It worked out very well, and while I was back in school, I took a few engineering classes also which took me in a new direction after I graduated from the certificate program.
Q2. You entered the UW-Madison GIS Certificate Program (now GIS Professional Programs, GISPP) in one of the program's earliest cohorts. Why did you choose this path, and what was appealing about the program for you at that time?
The program offered a nice combination of technical and academic classes that helped me focus and figure out where I wanted to go with the degree. There was some flexibility in what classes you could take, which led me to some survey and engineering classes. Since the program was still fairly new, we had some wiggle room to figure out what worked and didn't for me. That was pretty nice.
Q3: For part of your career, you were the GIS manager for the City of Fitchburg in Wisconsin. What was this experience like? How did working for local government help prepare you for your current professional role?
After I finished the program, I was hired by Fitchburg Public Works to finish mapping out their utility infrastructure (water, sewer, storm sewer, streetlights, etc). That was a combination of GPS field collection and reviewing record drawings. I convinced my boss to let me scan the record drawings and I hyperlinked them to the features which led to building a user mapping app that was really useful. The city was small enough that I was asked to help out other departments with some mapping projects. I ended up doing stuff for fire, police, emergency management, parks, forestry, economic development, and getting exposed to a lot of different things. Everything from determining a new fire station location, to missing person searches, a land cover analysis, and court cases in addition to the added responsibilities within the Public Works department. I went from mapping out the utility system to construction inspection, plan drafting in CAD, design work, modeling, contracts, and project management. I was also able to do the occasional archaeological survey as needed for some projects. After 10 years I had enough practical experience and I was thinking about taking the Professional Engineer exam when there was an opening back at the Historical Society. All the different experiences I had plus the construction experience helped me bring a different perspective and experience to the work at the Historical Society. Being able to speak "engineer", reading plans, and having practical experience went a long way when reviewing projects and explaining things to developers, builders, etc.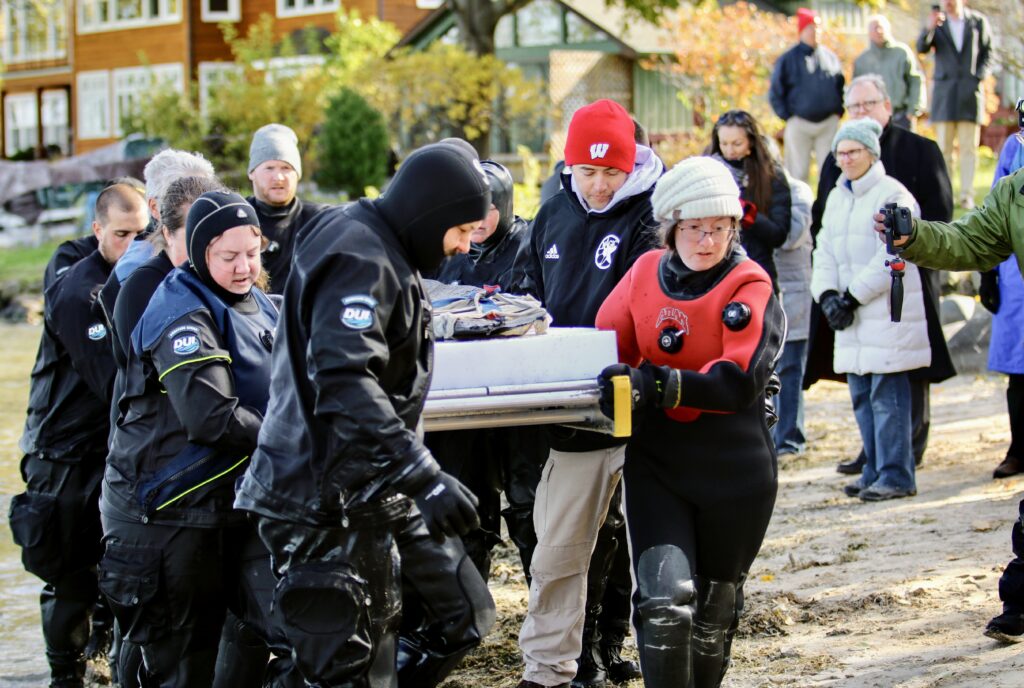 Q4. Your position at the Wisconsin State Historical Society (WHS) is an interesting one – can you talk about the work you do, and elaborate on some projects or fieldwork that stand out to you?
I started out as strictly GIS/IT focused. I was able to streamline and automate some processes, which freed up some time for me. That allowed me to start poking around a little bit with remote sensing for archaeological sites (LiDAR, historic aerial imagery, IR-imagery). The historical society was using LiDAR for some things, and I was able to get better-sourced data, and process point clouds and DEM's into making higher-resolution imagery. Eventually, I started helping with the review of projects for the compliance section with my past work experience. This opened me up to more opportunities for field archaeology. I'm still mostly in the office but I get to go outside every now and then, which is really nice. I had one project that combined my whole academic and work experiences in one package. Back when I was working with MAP, I was part of a burial mound survey in Crawford and Grant counties. While doing the preliminary research over the winter, I found a mound group that a professor of mine at Ohio State had reported in 1972 when he was a student at Beloit College. I got to go out to the mound site, and we found it and were able to map it which was good since we only had verbal descriptions of the site. The mounds were next to a clearing for some power lines, so we shot in the guy wires as well as a reference point. It was kind of cool to find something that Dr. Yerkes found when he was a student since it was his archaeology class that got me interested in anthropology. Fifteen or so years later I'm back at the historical society and there was a project that involved clearing trees and brush under utility lines. As part of the review, I found the mounds again this time using LiDAR and they were still there and in good shape. I looked up Dr. Yerkes and found that he was still at OSU so I sent him a hillshade image of the mound group he had found almost 50 years earlier. We had a nice conversation, and I was also able to point out the mounds to the tree trimmers and keep the site protected as well.
Q5. You recently presented some of your GIS and archaeology work at the Wisconsin Land Information Association Regional meeting. How important is it to share the unique work you do with the broader GIS/mapping community in Wisconsin?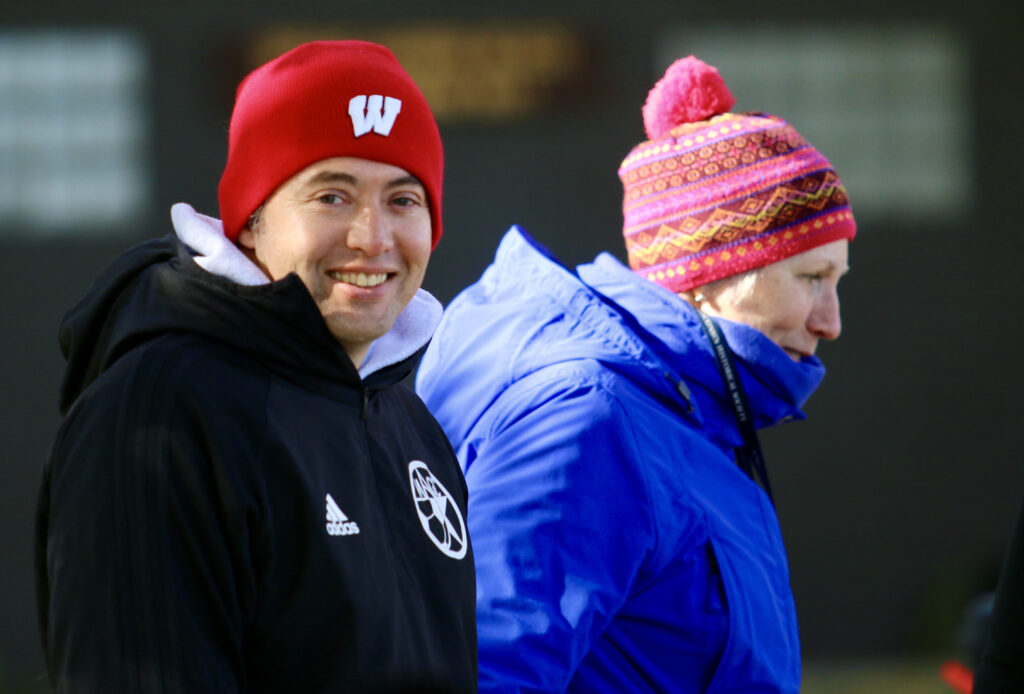 There is so much you can do with GIS depending on what field you are in. Being able to share what I do and see what other people are doing is really helpful because you never know where some little tidbit of information might help you down the road. During COVID I was transferred to the WI Department of Health Services, and I ended up doing an analysis using historic Native American land ownership, current demographic data, testing facilities, and infection rates. I was able to show a relationship between demographics and infection rates that showed the need for additional testing resources. This opened up all sorts of new areas of analysis that proved to be very useful during the pandemic. Pulling in seemingly unrelated information and making that connection is a big part of analysis. Seeing what others are doing sparks ideas for things that I can try or use in my work. Plus, other things people are doing are really interesting to me.
Q6. Beyond Wisconsin, does the archaeological research community collaborate and share experiences in applying GIS technology in the field?
Definitely, there are always papers, working groups at conferences, and things like that. Predictive modeling, site and landscape analysis all sorts of things. A lot of good stuff comes from grad students, people testing out ideas and software to see what is possible and if it works.
Q7. Your academic and professional pursuits have come full circle – beginning with your undergraduate degree in archaeology, your certificate in GIS from UW-Madison, and now an impressive career applying GIS to archaeological research at the WHS. What advice would you give current students about their future professional endeavors?
It took me a while to figure out where I wanted to go and what I wanted to do. That's ok, it is rare for someone to know what they want to do right out of high school or college and stick with it. I think being curious is a wonderful thing. Try something different, go off on a random tangent, and see where it takes you. It might not pay off short term, but all of your past experiences and learning will eventually come back to you at some point. I went from archaeology to engineering and back to archaeology with a detour in public health. I used things I learned in all those different areas for whatever my current job was or is now. The nice thing about GIS is that it can be used in so many different careers. If your interests change over time, you still have a base set of skills that you can bring with you into a new job or pathway. The other thing I'd recommend is paying attention to the world around you. You can learn so much from things outside your area of specialty. It might be useless information sometimes but, when you can tie it into what you are doing it can be a huge help.