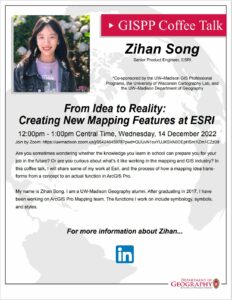 Round three of our virtual lecture series, Coffee Talk, is this week! Join us on Wednesday, November 14th 12-1pm CDT to hear from Zihan Song, a former student of UW-Madison Geography. Zihan Song is a senior project engineer at Esri and will be speaking on the process of how a mapping idea transforms from a concept to an actual function in ArcGIS Pro.
Coffee Talk is a great way to connect with our global UW-Madison Geography community! Whether you are interested in networking or hearing about the latest in Cart/GIS, we encourage you to stop by.
Coffee Talk will take place on Zoom at the link below. See attached flyer for more details.
Zihan Song | December 14th 12-1pm CDT – Launch Meeting – Zoom