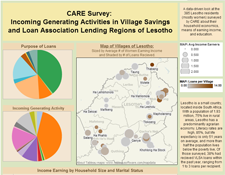 A trio of UW-Madison graduate students – Emily Eggleston, Amy Karon, and Kate Prengaman—recently were awarded the 2012 Tableau Student Data Challenge for their project Family Economics in Lesotho. The 2012 competition required students to make use of the Tableau analysis and visualization software to present a clear and convincing visual story about the people of Lesotho, Africa. The project team will take home a combined $1250 as First Place recipients and plan on using the prize money towards upgrading their computing and visualization technology.
The project team drew heavily from their combined interests and experience in Geography and Journalism to create the award winning visualization:
Emily Eggleston recently completed an M.S. in Geography (May '12) under the supervision of professor Erika Marin-Spiotta and will complete an M.A. in Journalism next year with a focus in science writing. She feels her writing will be strengthened by the opportunity to understand and participate in the scientific process while a Geography graduate student. In addition to the Tableau-sponsored award, Emily also recently was awarded a $20,000 AP-Google Journalism and Technology Scholarship in support of a project to catalog Madison-area datasets and increase their accessibility to journalists and the general public.
Amy Karon is a recent recipient of an M.A. in Journalism (May '12) and now covers the Wisconsin statehouse for The Daily Reporter and theWisconsin Law Journal. Amy specializes in health and computer-assisted reporting and previously worked as an infectious disease epidemiologist with the Centers for Disease Control and Prevention and the Wisconsin State Health Department. As a student, Amy interned as a watchdog reporter for the Milwaukee Journal Sentinel and the Wisconsin Center for Investigative Journalism.
Kate Prengaman, a former botanist, currently is pursuing an M.A. in Journalism with a focus on science writing. She was excited to discover that her previous experience working with geospatial data and designing maps has helped her as a journalist to tell compelling visual stories. Kate recently had an article published to the Scientific American Guest Blog describing how learning Cartography in Professor Robert Roth's Geography 370 course has improved her overall writing.