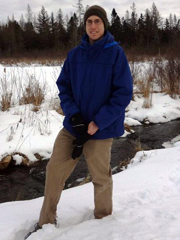 Carl Sack, a graduate student in the Cartography/GIS masters program, recently was recognized by the Wisconsin Land Information Association (WLIA) with the 2012 Damon Anderson Memorial Scholarship. The scholarship provides $1000 in grant money to student recipients, plus complimentary registration and lodging at the 2013 WLIA Conference. The scholarship funds will be used towards Carl's MS thesis project, which seeks to provide web mapping tools for residents of the Bad River Watershed in Northern Wisconsin in order to identify landscape values that exist in their watershed. The ultimate goal of the project is to open a doorway to greater public participation in land use decision-making within the watershed. Carl writes that the $1,000 in WLIA grant money will help with travel, public outreach, and start-up costs related to the project. Carl will be presenting his research at the 2013 WLIA Conference, to which he encourages all UW-Madison Cartography and GIS students to attend. Congratulations Carl!
Read more about Carl Sack's thesis project
Founded in 1987, the WLIA is a grassroots non-profit advocacy organization representing land information and GIS professionals statewide. The WLIA supports the the profession through continuing education, sharing of best practices, professional networking, student support and advocacy initiatives on issues affecting the statewide community.