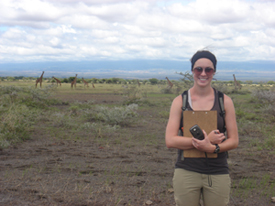 Geography undergrad Claire Poelking was selected by the Office of the Provost to receive a 2012-13 University Book Store Academic Excellence Award. This award is given to undergraduate students who best exemplify the principle that excellence can be achieved through independent study.
Claire's independent study research took place in Kimana, Kenya outside of Amboseli National Park. The research looked at whether community-run wildlife sanctuaries outside of formerly protected areas served their purpose as wildlife corridors and touched on social attitudes towards these reserves. Claire's faculty advisor is Prof. Lisa Naughton.
Claire is studying Geography (People-Environment), Environmental Studies, and African Studies while working towards a Comprehensive Letters & Science Honors degree. Not only has Claire excelled in the Honors Program, she has worked for this program as a peer advisor for over two years, where she shares her rich experience to help others plan for and achieve their academic goals.
Award recipients will be honored at the Chancellor's Undergraduate Awards Ceremony on Thursday, May 9, 2013 in Great Hall of the Memorial Union. The ceremony begins at 7:00 p.m. and will be followed by a reception for students, faculty advisors, and parents.