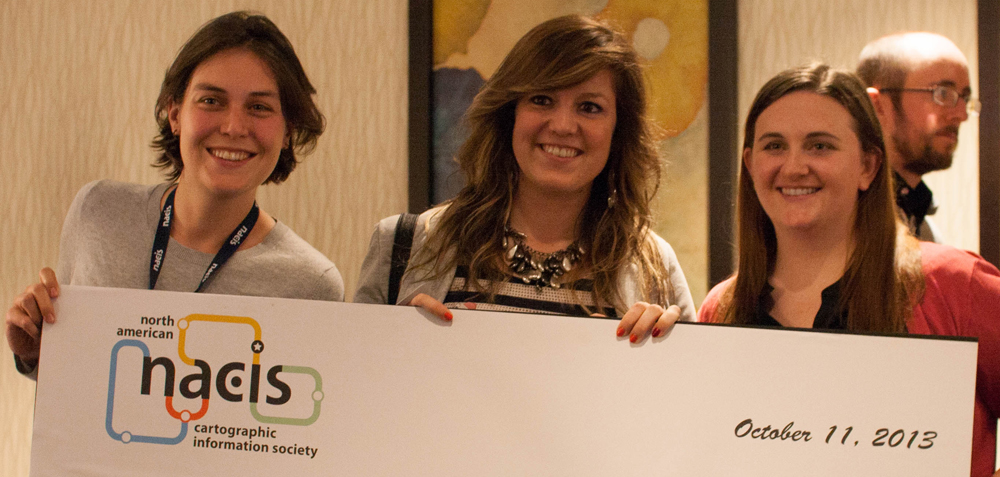 UW-Madison Geography students and alumni represented big at this year's North American Cartographic Information Society (NACIS) conference. Twenty UW-Madison students alone were on the ground in Greenville, S.C., presenting, organizing and talking maps, joining with many more graduates of our program. It became a bit of a running joke.

As always, there was a map competition. This year there were two awards for digital map products, one for Best Narrative Map and one for Best Interactive Map. We're proud to report that our students won both categories.
Masters students Rashauna Mead, Vanessa Knoppke-Wetzel, and Erin Hamilton (pictured left to right), won the best Narrative Map competition with their 50 Years of Change.
Alumni Morgan Jarocki, BA '13 (currently doing an internship at National Geographic), Chris Cantey, MS '13 (now working at a Minneapolis engineering firm), and new Cart/GIS masters student Carolyn Rose, BS '12, won the Interactive Map competition with #Sandy, a map that all three developed as students in Prof. Robert Roth's interactive mapping class last year.
Though Chris Canty could not be physically present to receive his award, he was proudly represented digitally over Morgan's smartphone.

Pictured left to right: Morgan, Chris (picture-in-picture), and Caroline
We're not sure why Morgan ended up with the very large check, but he seemed very attached – never letting it out of his sight.
 Photos by Dylan Moriarty