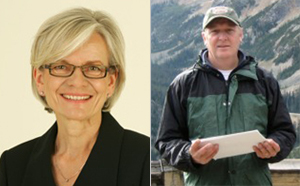 Badgers cross paths!  When the Washington state legislature sought expertise in anticipating and adapting to climate change they turned to two of our alumni: Lisa Graumlich (MS '79) and Jon Riedel (MS '87).  Despite their parallel careers studying climate impacts in high mountains and currently residing in the same state, their paths had never previously crossed. Graumlich is currently Dean of the College of the Environment at the University of Washington and Riedel is a geologist with the National Park Service and president of the Skagit Climate Science Consortium. Both acknowledge the tremendous influence of Professor Jim Knox and the Quaternary program at UW in launching their careers.
Norman Berdichevsky (PhD '74) sends greetings to all colleagues and former classmates (1969-74). He just retired after teaching for the past four years at the University of Central Florida in Orlando. He looks forward to cruising the Caribbean, South America and Europe with his wife Raquel. He continue to write monthly essays for the New English review and is an occasional destination lecturer on several cruise lines. He also has a new book, Modern Hebrew,  The Past and Future of a Revitalized Language, coming out this spring.

William Gartner (PhD '03) spent the summer conducting research on the Menominee Indian Reservation in northeast Wisconsin in collaboration with the College of the Menominee Nation. Read more about the research project here. Bill also continues to serve as a senior lecturer here in the Geography Department.
Mave Hedberg (BA '64) sent along this nice note: "While geography was my major at the UW, my career was unrelated. Nevertheless, geography has always had a huge hold on me. Having traveled the US extensively, its infinite marvels have always been of great interest to me, which are rooted in my UW geography and geology experience. It's no coincidence that we live at the door step of one of the world's great wonders, Zion Nat'l Park."

Po-Yi Hung (PhD '13) was hired as an Assistant Professor of Geography at National Taiwan University in Taipei, where he continues his research in nature-society relations. He uses agricultural practices and food trade as his lens to investigate relations between people, place, and environment.

Pascal Irmscher (MS '05) is finishing up his Ph.D. in Ecology and Evolutionary Biology at the Biology Department at the University of Oklahoma at Norman. Next year he may be going back home to Germany for a postdoc at Technical University Munich. Pascal's website

David K. Snyder (MS '95) just published a book entitled, Geography of Southcentral Alaska: Explorations and Explanations of its Landscape, which contains full-color maps, charts and accessible explanations of all the important geographic phenomenon that shape this part of Alaska. The book can be previewed (and purchased) at www.piceageographics.com.

After three year as a Program Officer in the Geography and Spatial Sciences Program at the National Science Foundation, Antoinette WinklerPrins (PhD '99) now works at Johns Hopkins University-Washington D.C. Center as Director for Environmental Studies.
You can submit your alumni updates here.