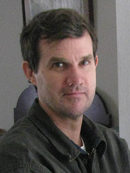 Congratulations to Ph.D. student, Peter Swift, for winning the Genevieve Gorst Herfurth Award for Outstanding Research in Social Studies for his paper, "Changing ethnic identities among the Kuy in Cambodia: Assimilation, reassertion, and the making of Indigenous identity".
This paper has just been published in a special edition of Asia Pacific Viewpoint (Volume 54, Issue 3, pages 296–308, December 2013) about Indigeneity and Natural Resources in Cambodia.
Peter's faculty advisor is Ian Baird.