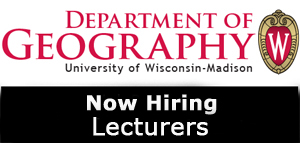 The Department of Geography seeks to fill a 40% lecturer position for the Spring 2015 semester teaching Geog 170: Our Digital Globe. This is a survey course on geospatial science. Detail can be found here.
Note that this is an online course, but most of the students will likely be on-campus.  As a result, it's critical that the instructor be available for in-person office hours and student meetings.
To ensure consideration, applications should submit resume and cover letter (preferably as a single PDF document) to Sharon Kahn by November 14, 2014.