The Geography Department is pleased to announce its 2015 undergraduate awards.
Olmstead Awards
The Olmstead family set up a fund in 1995 to honor our department which has been ranked among the highest quality geography departments in the United States, consistently since the late Clarence W. Olmstead became a member of its faculty in 1946. He retired in 1981. The purpose of the fund is to support, encourage or reward excellence in geographic scholarship.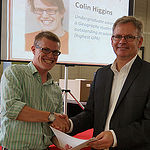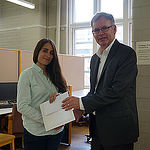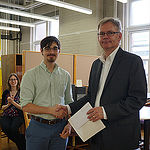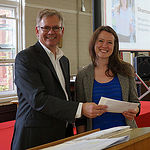 Olmstead Award for Undergraduate Excellence in Geography:  Colin Higgins
Olmstead Undergraduate Achievement in Geography: Shannon Plunkett & Nadia Carlson
Olmstead Undergraduate Achievement in Cartography: Jonathan Koser
Barbara Petchnick Award for Cartography
The Barbara Petchenik Award fund was established 1993 with memorial contributions and gifts in memory of Barbara Bartz Petchenik who received an MS in 1964 and Ph.D. in 1969 from the department. The purpose of this fund is to provide two annual prizes (one undergraduate, one graduate) for the best map designed, complied and executed for a class offered by the Department of Geography. This year, both undergraduate award winning maps were produced as final project for Prof. Rob Roth's Introduction to Cartography class in the Fall 2014 semester.
First place: Hannah Friedrich for her map "From Beneath our Feet"
Second place: Clare Trainor for her map "The Lack of Female Leadership Around the World"
Jerome Kohn Geography Award  See this related article.
See our Flickr album of the 2015 Undergraduate Graduation and Awards Ceremony.