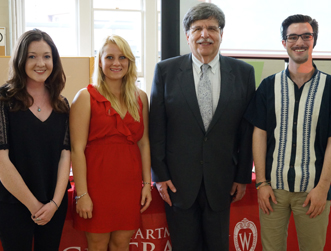 This year, three undergraduate students were beneficiaries of the newly-established Jerome Kohn Geography Fund. This year's recipients, Megan Healy, Breana Nehls, and Martin Brubaker, were presented the award at the Undergraduate Graduation and Awards Ceremony on May 15, 2015.
Jerry Kohn received his BA in 1974 from the Department of Geography and his Master's in 1977 from the Department of Urban and Regional Planning. He set up a fund in 2013 with the Wisconsin Foundation to assist undergraduate students in financial need for their education. Each year the department will be able to use funds to support one or more undergraduate students who demonstrate a strong interest in geography as a major or career choice, and who demonstrate such need. By setting up a life-income gift versus a bequest, Jerry has the pleasure of seeing his gifts in action and meeting the recipients who benefit.
"The Kohn Awards will support my research in Rio de Janiero this summer. This research is a continuation from a research trip from last summer, where I studied urban growth and governance in the context of pre-Olympic preparations. I will also be working pro bono for a community reporting website while in Rio, so the support of the Kohn Award will make my research and community work much easier to successfully accomplish." – Megan Healy
"I am so grateful for this award, which will support my attending the Green Summer Freiburg in Freiburg, German. Green Summer Freiburg is an intense summer study abroad program that engages students in the topics of social policy, technology, development, urban planning, and lifestyle choices. My specific interests in studying here are in waste and discard studies, and during this trip I am eager to use my insights and experience from my senior position at the Office of Sustainability on the UW campus to learn more and make a difference." –  Breana Nehls
"With this award I will have financial stability to support my summer research towards my senior thesis. I will be investigating the role of suburban-related habitat fragmentation, particularly its impacts on pollination opportunities. The research schedule will require approximately 20 hours of unpaid field research a week to quantify pollination in different suburban landscapes in Madison. Thank you very much, Mr. Kohn for this wonderful opportunity to further my geographic education." – Martin Brubaker
For information on how your planned giving can benefit UW-Madison geography students now and into the future, please contact Ann Lippincott, University of Wisconsin Foundation Development Specialist, at 608-263-3604 or by email.