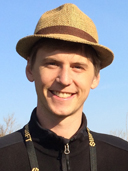 Ph.D. student Nathan Green was awarded the Genevieve Gorst Herfurth Award for Outstanding Research in Social Studies for his paper, "The History and Economy of Anti-Malarial Drug Resistance on the Thai-Cambodia Border".
The Genevieve Gorst Herfurth Award recognizes a doctoral student in the social studies who has demonstrated outstanding research and scholarly writing accomplishments while a graduate student at UW-Madison. Only one recipient, selected by the Social Studies Divisional Committee, is awarded this prize annually.
The award requires that the candidate's work be excellent and demonstrate "outstanding research in the social studies." The work must be sole-authored and may be a book, manuscript, seminar paper, course paper, or paper submitted for presentation at a professional conference or to a scholarly journal.
Green's faculty advisor is Ian Baird.