The Department of Geography is pleased to announce the winners of our 2016 Department awards.
Whitbeck Graduate Dissertator Award
Every year, the department gives two Whitbeck awards to Ph.D. candidates in the final writing stages their degree. Each provides one semester of support and is intended to create the space needed to finish writing a dissertation.
Mario Bruzzone and Andy Davey were selected from a larger-than-usual pool of Whitbeck Graduate Dissertator Award nominees.
Mario's dissertation title is I Always Climb on the Train Praying to the Lord": Political Economies of Violence in the Long Transit of Central Americans across Mexico. Andy's dissertation title is Holism and Fracture: Environmental and Moral Education at American Colleges and Universities 1960-Present.
Olmstead Awards
The Olmstead Awards are dedicated to recognizing outstanding graduate and undergraduate geography students.
Graduate

Olmstead Outstanding Publication Award:  Elsa Noterman
For her publication in Antipode, titled 'Beyond Tragedy: Differential Commoning in a Manufactured Housing Cooperative'.
This prize is awarded to a student who has written an outstanding publication, as judged by the Graduate Studies Committee.
Olmstead Outstanding Teaching Award:  Ben Watson
This award is given for accomplishment in any aspect of teaching by a graduate student in the department including mentorship of others teaching in the department, lecturing or classroom acumen, conscientious use of pedagogy, or an articulate teaching philosophy.
Ben is a gifted public speaker, natural leader, and a committee teacher. His enthusiasm and skill is reflected in the inordinately high amount of unsolicited positive feedback about Ben from students during our course evaluations. Ben has served as lead TA for Geog 120 (Introduction to the Earth System) for the past two semesters.
Olmstead Outstanding Citizenship Award:  Heather Rosenfeld
This award is given in appreciation of outstanding participation in departmental activities and culture by a graduate student.
As stated by her nominator, "Heather exemplifies what it means to take seriously the responsibility of an academic to improving the world immediately around oneself".
Undergraduate
Olmstead Excellence Award:  Christopher Morgan
This award recognizes outstanding academics and is given to the student with the highest grade point average.
Chris has been a crucial member of the Geography Club, where he's served as an officer for three years. And this past year he wrote an honor's thesis in biogeography in which he researched the role of seed traits influencing plant community changes in unburned prairies throughout southern Wisconsin.
Olmstead Achievement in Cartography:  Clare Trainor
This award recognizes growth in Cartography and GIS, and is given to students who made significant achievements in the major.
Clare is a very talented cartographer. We encourage you to explore her portfolio at claretrainor.com. There you will find several gorgeous maps that depict a diverse array of fascinating information, from the transportation infrastructure of China's Pearl River Delta to the extent of female membership in legislative bodies worldwide. Additionally, Clare has created stunning graphics for multiple book authors, including several maps in a recent book titled, Connectography: Mapping the Future of Global Civilization. In fact, if you happened to be reading the New York Times's Sunday Review on April 15, you would have seen one of these amazing maps.
Olmstead Achievement in Geography: Breana Nehls & Jonathan McHugh
This award recognizes growth in Geography, and is given to students who made significant achievements in the major. This year we have two awardees.
Jon McHugh is interested in how people's values influence their interactions with physical landscapes. He explored this theme through a research project carried out near the Ganges River in India while studying there, and in a senior thesis that took him to a handful of nature parks and sacred spaces in southern Wisconsin. This fall, Jon will start a master's program in education, with the goal of eventually teaching Geography in grade school. We
sorely need good Geography teachers in grade school, and Jon will no doubt prove to be a great one.
Breana Nehls has also been a crucial member of the Geography Club, serving as an officer for all four years she's been on campus. Through the Office of Sustainability, Breana's also been active in several sustainability initiatives on campus, as well as in communicating her campus-sustainability work at professional conferences. Breana has been a tireless advocate for Geography, too, and very generous with her time when it comes to talking with students about the discipline.
Kohn Scholarship Recipients
The Kohn Award recognizes student excellence and supports various aspects of undergraduate education, such as conducting research, studying abroad, and engaging in public service, among other endeavors. This year, three students, all of them rising seniors, were selected for Kohn Awards, and will each receive $750.  
Hallah Ghanem is interested in human migration and displacement in the Middle East. Hallah hopes to capture the powerful stories of refugees and convey them through cartography. This summer, she'll leave for Amman, Jordan, to study Arabic. And this fall, she'll be in Washington, D.C., through the University's Semester in International Affairs program, where she'll intern with an organization that works with refugees. The Kohn Award will help support Hallah in the nation's capital this fall.

Mengyu Liang. Since her freshmen year, Mengyu has worked in Dr. Joe Mason's lab, doing the tedious but essential work of analyzing soil particle sizes. Next year, for an honor's thesis, Mengyu will study the impacts of Euro-American settlement on soil in northern Minnesota. And as part of another project, she'll study land-use change on the fringes of cities in northern Thailand using aerial photography. The Kohn Award will help support Mengyu's land-use-change research in Thailand.
Elena Mederas, who's a writing fellow at the University's Writing Center, where she helps students become better writers, as well as a campus radio-show host of a program that explores environmental issues. As part of an honors thesis, Elena will travel to Costa Rica this summer to study how conservation policies have affected a small fishing community there. The Kohn Award will help support this research.
Barbara Petchenik Memorial Award in Cartography
Given to students for excellence in cartography and map design, including artistic and technical skills. Prizes awarded at both the graduate and undergraduate level.

Graduate
First place: Alex Zarley
For his map, The Silk Road in the 1st Century CE.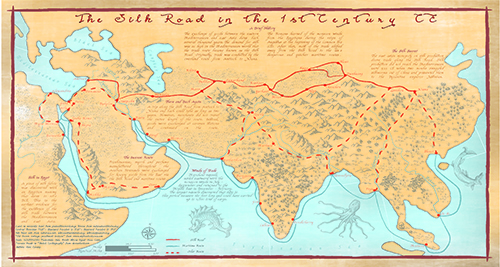 Second place: Scott Farley
For his map, Yosemite National Park.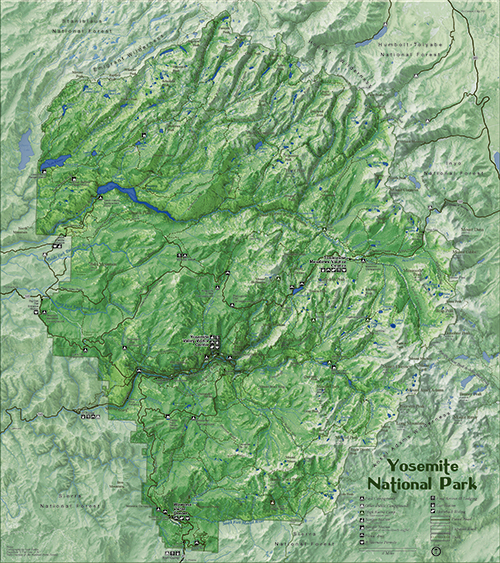 Undergraduate
First place: Gillian Cooper
For her map, The Hills of California.
Second place:  Christopher Morgan
For his map, A Cultural Tour of Ireland: An off the Beaten Path Guide to the Emerald Isle. The inspiration for this map came from Chris's experience studying Geography in Galway, Ireland.