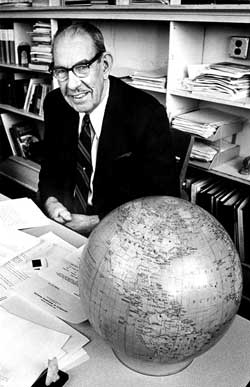 Join Geography for the 2016 UW–Madison Homecoming (November 11 and 12) as we celebrate the impact that Arthur Robinson had on the department. Many of our units, which he established, recently celebrated big anniversaries: Robinson Map Library, 70 years; Cartography Lab, 50 years; State Cartographer's Office, 40 years. Robinson himself would have turned 100 last year!
On Friday we'll also showcase current research across UW-Madison Geography, give tours of the Science Hall spaces, and share all the exciting work flourishing in Science Hall.
For current students, we'll be hosting mock interviews, a panel session, and networking lunch with alumni. If you would like to be involved in this activity, please contact Tanya Buckingham. Sharing the value of your geography degree and how it prepared you for your career, is invaluable to our students.
On Saturday, November 12, join us before the big Homecoming game, at a pre-game social to support undergraduate and graduate students research and professional development opportunities.
Interested in attending? Sign up here to get follow-up communication about this event.