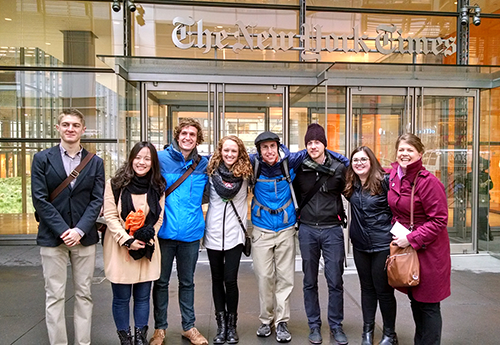 A core tenet of the Cartography Lab is to provide a variety of professional development experiences for Geography students. Examples include hosting unconferences, design challenges, guest speakers, workshops, and participating in national conferences.
This year was a big year for professional development. Tanya Buckingham, Assistant Director of the lab, collaborated with Joel Gruley, Undergraduate Advisor, to successfully obtain the Career Development Grant Program, sponsored by Wisconsin Foundation and Alumni Association and the College of Letters and Science. The grant has been applied to professional development workshops, and will help to cover costs associated with an event on November 11 that connects alumni to current geography students.
The biggest experience of the year was an inaugural Cart Lab sponsored field trip. In April, Tanya Buckingham led a trip for 11 students and staff to New York City. The inspiration was the result of student interest in seeing behind-the-scenes at some of the most exciting organizations in the field. The students visited CartoDB, New York Times, Mapzen, United Nations, New York Public Library Map Division, New York Public Library Labs, and the New York Office of Emergency Management. The organizations varied widely in how they interact with geography. An important aspect of the trip was the expectation that each student in attendance would present at GeoNYC, a meet-up for mappers, with a typical attendance over 100 people. The students each chose an aspect of cartography and delivered a lightning talk. This was definitely the most intimidating aspect of the trip for each of the students. In the end, also the most rewarding.
The feedback has been enormously positive. Students found the variety insightful, helping them to focus more on their areas of interest. Several students commented about the validation in seeing the skills they are gaining and how they will be applied in their careers. The one suggested improvement is to have more downtime, especially with the people from the hosting organizations. We had one modest social gathering that included alumni in the New York area, as well as several professionals in the area. Current students were able to make connections with experts, get advice about careers, and the transition from student life to professional life. Many wished there had been more time for the personal networking, and would have been willing to extend the trip for the additional experience. Our original intention was to coordinate and raise funds for a trip every couple of years between the cities with the highest density of geography and cartography organizations. However, there has been so much interest from the students for a trip to happen sooner. We are exploring the possibility of visiting Washington DC in 2017, and have begun working with colleagues in DC to determine the feasibility. Additionally, we are working to design a trip that will be of interest to all areas of study for geography.
Special thanks to all of the hosts who sponsored the UW Cartography Lab tour: Jeff Ferzoco, CartoDB; Tim Wallace (PhD '16), New York Times; Alyssa Wright, Mapzen; Ayako Kagawa, United Nations; Katherine Cordes, New York Public Library; Bert Spaan, New York Public Library Labs; Kristen Grady, Office of Emergency Management