Reprinted from L&S: http://ls.wisc.edu/news/cartography-led-to-a-sweet-spot-for-alumna-gail-ambrosius
The revered Madison chocolatier turned a passion for geography into a business that honors where her ingredients are grown.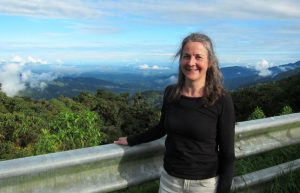 From a childhood spent on a dairy farm in Seymour, Wisconsin, to now spending much of her time traveling to Costa Rica, Colombia, Peru and Ecuador to work with farmers who grow cacao that she turns into fine chocolates back in Madison, a sense of place permeates everything Gail Ambrosius does. Falling in love with dark chocolate on a class trip to Paris, earning a cartography degree at UW-Madison and working as a state cartographer before launching her namesake chocolate business have been important plot points on her map to success.
What drew you to be a geography major at UW?
Maps, geography and the environment were always interesting to me. When my older brother got a degree in cartography I realized you could make a career of mapping, so I explored the possibility for myself. I earned a B.S. in cartography in 1993.
Describe your path from student to cartographer to chocolatier.
Settling on cartography was a relief. I finally found a field that resonated with me. Working in the Cartography Lab as a student was great fun — I learned how to make my first maps. The crew was also very welcoming and lasting friendships formed.
After graduation, I worked at a private firm in Berkeley for about a year before returning to Madison to work as a cartographer for the DNR. Laid off after 10 years, and with the cartography world shifting to GIS, I decided to try something new.
Being a chocolatier is art and science, and that attracted me. Chocolate is a product that grows around the world, so there is a fair amount of geographic knowledge needed to keep up with it. My training took me to France, seminars in Amsterdam and travels to Central and South America to meet cocoa farmers.
What role does geography play in the work you do now?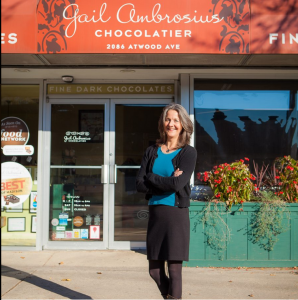 Cacao, the raw ingredient that becomes chocolate, is grown in Equatorial regions around the globe. In searching for chocolate, there is exploration of the different countries and regions, each having their own reflection on quality and flavor … I focus on single origin chocolate because it is place-specific. Each region or location has unique characteristics which influence the flavor. I think it is fascinating that a chocolate from Colombia can taste so different than a chocolate from Ecuador.
What keeps you and your business here in Madison?
Madison is an easy place to live. It is beautiful, has interesting geography and has lots to offer, including a world-class university and many interesting people. It is a comfortable size, too — lots of great neighborhoods and no major traffic jams.
What do you know now that you wish you had as an undergrad at UW?
That a major in one thing or another is not locking you into any specific career. Having a college education is only the beginning of lifelong learning. Your career can be whatever you choose it to be.