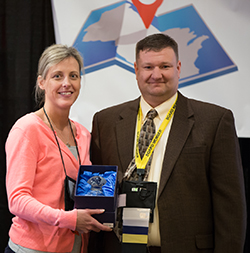 Jaime Martindale, Map & GIS Data Librarian at the Robinson Map Library, was honored at the 2017 Wisconsin Land Information Association (WLIA) annual conference. WLIA is a grassroots organization representing a collection of concerned professionals working to develop, maintain, and apply a network of statewide land information systems.
WLIA president, Martin Goettl, presented the Outstanding Contribution Award to Jaime, saying that, "She is celebrated for her efforts in providing access to the state's rich collections of geospatial data—including local county data, as well as data produced at municipal, regional, and statewide levels.  Her efforts have resulted in greater public and professional access to needed datasets."
The Arthur H. Robinson Map Library is a unit within the Department of Geography at the University of Wisconsin-Madison, and serves a wide range of users from both the University and non-University communities.
Photo courtesy of Associate State Cartographer, Jim Lacy