Maps, Aerial Imagery, & Geospatial Data

View and download publicly available state and local geospatial data layers, aerial imagery and scanned maps for Wisconsin.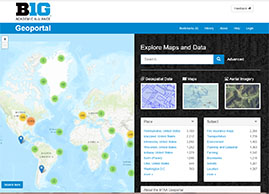 Big Ten Geoportal
GIS data from Big Ten Institutions
The Big Ten Geoportal provides download access to geospatial data, scanned maps, and aerial imagery from Big Ten institutions (including UW-Madison), as well as state clearinghouses and other sources.
The library is home to the largest collection of historic aerial photographs of Wisconsin, with over 260,000 images in the archive.