Jaime Martindale, Map & Geospatial Data Librarian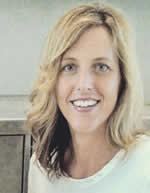 Jaime has been the Map & Geospatial Data Librarian at the Robinson Map Library since November 2003. She received her B.S. degree in Biological Aspects of Conservation and a Masters Degree in Library and Information Science (MLIS) from the University of Wisconsin-Milwaukee. She was the Geographic Information Systems librarian at Cornell University's Albert R. Mann Library prior to arriving at the University of Wisconsin-Madison. She is a member of North American Cartographic Information Society (NACIS), the Wisconsin Library Association (WLA), the Wisconsin Association of Academic Librarians (WAAL), and the Wisconsin Land Information Association (WLIA).
"As the Map & Geospatial Data Librarian at UW-Madison I develop both print and digital cartographic collections and provide reference and instruction services in support of research and teaching in a variety of fields including Geography, History, Political Science, Environmental Studies, Planning & Landscape Architecture, Cartography, and GIScience. In addition, the library supports various academic departments that utilize maps, geospatial data, or mapping technologies in applied and theoretical settings.  Since 2003 I've curated an archive of Wisconsin geospatial data for research and teaching purposes.
I've created library research guides to assist in locating online geospatial data resources from around the world and teach introductory Geographic Information Systems (GIS) workshops to bring the technology to students and researchers who might find it useful in their own work. Recently, I've focused my efforts on archiving and long-term preservation of the library's geospatial data collections, partnering with the UW Libraries on strategies for ensuring access and usability into the future.
Robinson Map Library geospatial data, imagery and scanned maps are now widely accessible for download via GeoData@Wisconsin, an online geoportal that resulted from a collaboration between the library and the State Cartographer's Office. I am also the UW Libraries representative and task force member for the Big Ten Academic Alliance Geoportal, a collaborative effort of 13 academic institutions to share and promote discovery of geospatial data and scanned maps across our campuses.
The Robinson Map Library contains a physical collection of over 500,000 cartographic items, where my responsibilities include: cataloging all materials, processing government documents, filing, weeding, and providing reference services to a diverse user population. I also have the wonderful opportunity to employ and mentor students from departments across campus, including graduate and undergraduate students from Geography, the Nelson Institute, the School of Education, the iSchool, and others."
Jaime can be contacted at: jmartindale@wisc.edu