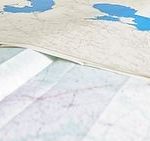 Copying
A black and white photocopier is available within the Map Library for users who wish to make copies of maps or aerial photographs. The photocopier is free of charge and has two available paper sizes (8.5×11 and 11×17).
Scanning
Three public scanning workstations(11″x17″ size scanner beds) are available within the Map Library for digitizing and saving digital copies of library materials.
Large Format Scanning
The Map Library offers complimentary large format scanning of Map Library materials to University faculty, staff, and students for educational/research-related projects, course assignments, or presentations.  For all other requests:
We have a flat fee of $10.00 per scan (this applies to non-UW patrons & digitization of any materials NOT held by the Robinson Map Library.)
All scan requests must be accompanied by a signed scan request form – available in the library or provided via email.
Payment can be made via check or UW direct account transfer. An invoice will be sent via email with payment instructions.
The fee may increase if materials are fragile and need special handling or mylar sleeves. We reserve the right to refuse to scan any items that we feel may be damaged by our sheet-feed scanner.  Any changes to the fee will be stated in an estimate email prior to scanning.
Map Library staff must perform the scanning (our scanner is not for public use)
Materials must be left with library staff – we have a 24hr+ turnaround time
We reserve the right to reject scanning items that are in copyright, too fragile to handle, or might damage the scanner.
The large format scanner can accommodate items up to 54″ in width. Please contact Map and GIS Librarian, Jaime Martindale at jmartindale@wisc.edu, or call the library (608-262-1471) for information on filling out a scan request form.
Printing
All Map Library public workstations can print to a black and white laser printer (8.5×11 only). Cost is $0.07 per page and a Wiscard must be used. Map Library workstations can also print to a color laser printer (8.5×11 only) located in room M376 of Science Hall. Cost is $0.60 per page and a Wiscard must be used.