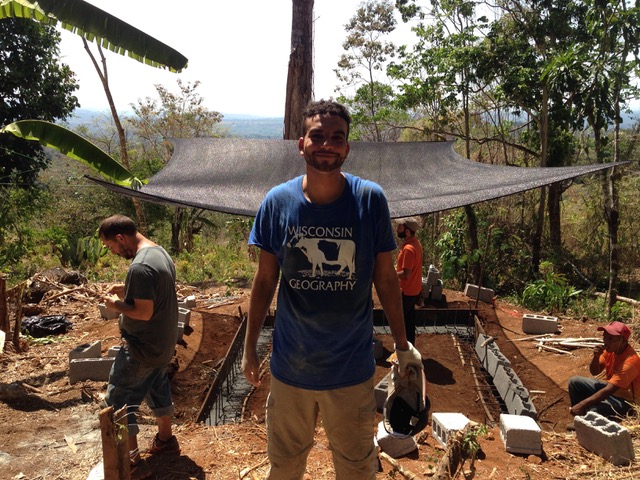 Welcome to the inaugural post in this year's series of UW-Madison Geography alumni interviews!
Our first interview is with Jonathan Goodell, Class of 2015. Over the past year, Jonathan worked with the Water and Sanitation Health sector of the Peace Corps in Caimital, Panamá, where he partnered with the community's water committee to improve their water access. While in this role, he worked on projects like the replacement of a solar-powered water pump with an electric one for the local aqueduct system, and the extension of the aqueduct system to unserved areas of Caimital.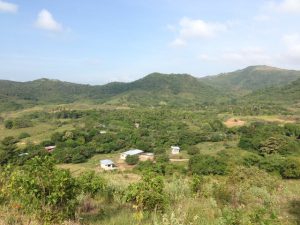 John writes that "all money invested into the community will come from the Panamanian government and the community projects will be run by community members. Not a dime came from outside of Panamá or from Peace Corps. To be honest, this is something I am very proud of as my personal goal in Peace Corps was to increase the trust between the Panamanian government and the people of Caimital because it is much more sustainable to work with the Panamanian government who will be around much longer than the Peace Corps."
While in Panamá Jonathan also taught English in a local elementary school, served on the Volunteer Advisory Council for Peace Corps Panamá, and worked with community members to develop proposals for a "Centro Educativo" in Caimital that will consist of a library, internet café and public presentation space for job training.
Read our interview with Jonathan below to learn how his time at UW-Madison started him on the road towards the work of grassroots community development and environmental resource management that he was a key part of in Caimital. He will continue that work this fall as a Community Outreach Coordinator with the Alice Ferguson Foundation in the Washington, D.C. area for their Trash Free Potomac Watershed Initiative. In this role he will work with community leaders, government agencies, businesses, elected officials, faith communities, schools and others to make the Potomac River cleaner through river cleanups, better waste management techniques and community empowerment.
 "If one avenue to a solution is closed, a geographer can see other avenues and ways to get to the solution that is necessary. That flexibility is needed in this world."
What drew you to be a geography major at UW?
I've been interested in geography and cartography since I was a little child. I've always been fascinated by presidential campaign coverage and the accompanying maps that display demographic information relevant to it.  In retrospect, I've always thought in terms of space and geography. I knew Wisconsin had a great geography program and that's what drew me to UW from my home state of Maryland.
What role does geography play in the work you do now?
Human Geography empathizes the interconnectedness of pretty much everything in the world. Things, phenomena, processes, etc. don't exist in vacuum, so you have to ask yourself what influences what and how. This framework for looking at the world served me well during my time as a Peace Corps Volunteer in Panamá. Technically I was sent to improve the water infrastructure in the community I lived in and be a technical person, almost like an engineer/construction worker hybrid.  However, to get the job done in a sustainable manner I had to use soft skills like bringing community members together and getting them to collaborate with the government on their community development projects. I didn't see the project I was working on as simply an engineering issue, but a more complex issue involving small community dynamics, the changing economy of the region I lived in, trust in the government, government accountability and understanding the government bureaucracy and how that effects development projects. Understanding these issues helped me complete my project as $18,000 of government funding was and/or will be invested into the water infrastructure of the community I lived in. I don't believe I wouldn't have been as readily able to understand the multiple issues of the project without my background in human geography and its frameworks. As I search for my next job I am looking to expand on what I learned both at UW and during Peace Corps and will most likely use these same frameworks.
What do you know now that you wish you had as a student at UW?
I would say that a lot in life is about relationships, not merely connections, but authentic relationships between people. People always hear about networking, making a network and contacts, etc. However, I would say those things don't matter if you don't have a personal relationship with those people. A great place to cultivate authentic relationships is at Wisconsin. Don't worry about the anxiety you may have reaching out to an unknown classmate who you find interesting. The same goes for professors and teaching assistants (don't forget to utilize/ interact/ give props to TA's too!) Even if you may not have the same intellectual interests as Professors or TA's but you click well with them, then you should still visit them; you never know what may come of it.
Aside from academics, I would say I wish I had gone to more guest lectures, art exhibits, and all the other cool stuff the school and the Wisconsin Union puts on. There's such a vast array of cool, interests and free (!) stuff that you'll be hard pressed to find anywhere else. Enjoy it while you can.
Why is it important to have geographers out in the world?
As I said before, geographers see the world as interconnected and what those connections are and how they came to be. This world is increasingly becoming interconnected via migration, the internet, etc. An impactful person in this world has to understand these dynamics, and geography gives one the frameworks and skills to not only understand the world, but also change it for the better. Geographers are also not bound to one discipline or way of seeing things, so they can assess and tackle today's problems in various ways. If one avenue to a solution is closed, a geographer can see other avenues and ways to get to the solution that is necessary. That flexibility is needed in this world.