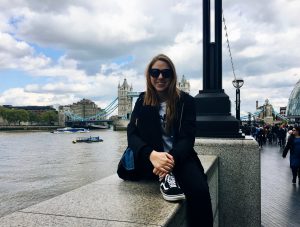 This week our student profile features Meg Fredericks, an undergraduate Geography major who studied abroad in London last spring. While in London, Meg worked on initiatives in sustainability and community involvement and interned at a farmers' market called Mercato Metropolitano.
Read our Q&A with Meg below on her experience in London and what led her to the Geography major.
How did you get interested in studying Geography?
Late into my high school career, I began to consider majoring in Architecture, which eventually led to an interest in Urban Planning. Since UW doesn't offer an Urban Planning major for undergrads, I was directed to the Geography program. I enrolled in a few intro courses during my freshman year, and gained a greater understanding and appreciation for Geography and how it encompasses so many different skills and disciplines. As soon as I finished my freshman year, I was set on the major.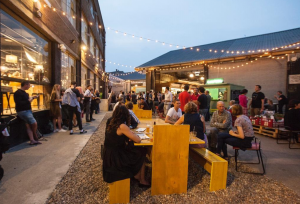 What led you to study abroad? And why London? 
When I applied to UW, I already knew that I wanted to study abroad. The summer after my freshman year, I went on a short study abroad program in Greece, and it reinforced the fact that I really wanted to live overseas for a longer period of time. I'd visited London once before, and I just had a gut feeling about studying abroad there. I'm so happy I did, I absolutely fell in love with it.
Can you describe your study abroad experience?
From walking through the BBC newsroom to visiting over 20 of London's most fascinating museums, my experience studying in London gave me access to many incredible opportunities. The academic internship that I completed at a farmer's market called Mercato Metropolitano in South London was undoubtedly one of the highlights of my experience.
During my time there, I worked on initiatives in sustainability and community involvement. I contributed to the development of the market's community kitchen and garden, both of which engage area children in learning opportunities like free cooking classes that promote healthy and sustainable eating. This was especially important because the Borough that the market is located in struggles with food access and has a high obesity rate, especially in children. Other projects that I worked on during my internship include networking with nearby environmental organizations and helping the administrative team establish a major hydroponics installation in the market. I'm lucky to have worked with a dedicated team that makes this market such an asset to its community. The pizza wasn't too bad either.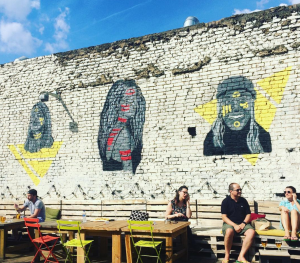 What was your biggest take-away from this experience?
London is full of people from all around the world, and its multicultural nature definitely shaped the experience that I had there. At my internship, the staff consisted of mostly Italians working in a British context, which made the workplace quite layered in terms of cultural values. On a normal day out around the city, I interacted with people who are so incredibly different from each other, but all contribute to making London one of the best cities in the world. If there's anything that's been solidified in my mind over the last few months, it's that we all have a lot to learn from each other, and there's nothing quite as rewarding as watching your worldview widen over time.
What is one fun fact about you?
While I was living in London, I was lucky enough to have access to an Oyster card that gave me free travel within the first two zones of the London Underground. A few weeks into my program, I decided to start keeping track of which tube stations I had been to. This ultimately resulted in me challenging myself to visit every station in Zone 1. A few days before I left London, I had been to all 62 of them. It ended up being a great way to explore the city, especially because I got to see areas that I wouldn't have otherwise visited.