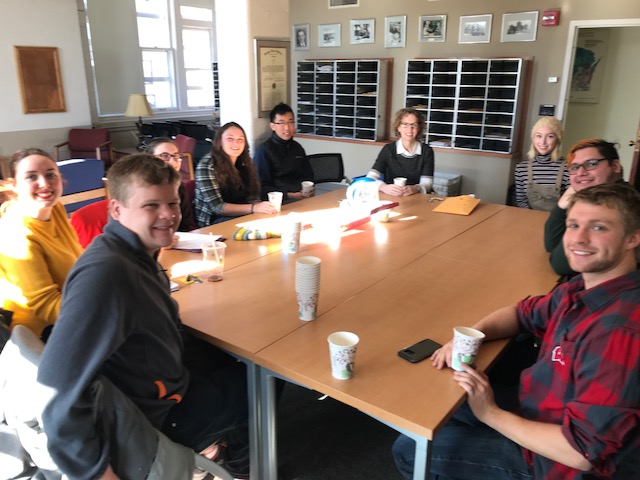 At a large university like the University of Wisconsin-Madison, forming meaningful relationships with professors can be challenging for undergraduates. As a result, the Department of Geography created a new event, dubbed "Tea Time," that is aimed at helping students get to know their professors better, and vice versa. Each month on a Friday afternoon, one faculty guest joins students for hot tea, baked goodies, and an hour of fun conversation. Students and the faculty guest are free to ask each other questions of their choosing.
Two weeks ago, Department Chair Lisa Naughton joined a group of majors for our Tea Time gathering. Students learned about Professor Naughton's path to Geography, her passion for doing applied research, and what she enjoys most and least about fieldwork, among other things. Dr. Naughton heard from students about their own research experiences, how they each found Geography, and the Geography courses they have enjoyed most.
Thus far, Tea Time has played a small role in fostering closer relationships between faculty and students. We look forward to further strengthening those faculty-student relationships when Professor Kris Olds joins students for the next Tea Time.