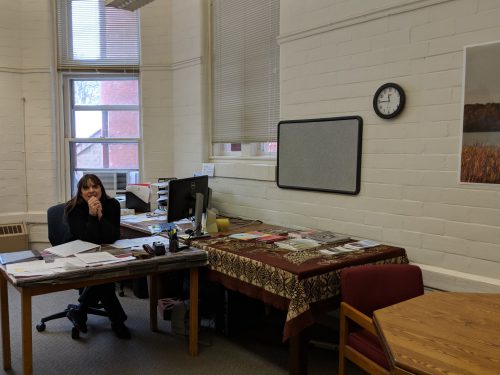 We are excited to welcome Marguerite (Mogi) Antoinette Roulet to the Geography department staff as Graduate Program Coordinator! Read our conversation with her below to learn more about what she did before she joined the department and the benefits she draws from Science Hall's community.
What is your role in the Geography department?
Graduate Program Coordinator
What type of work did you do before you joined the department?
I've done a variety of things – for many years I worked at a nonprofit organization focused on state & national policy affecting low-income families. For the past 8 years I was at Edgewood College in Madison. I was initially in the advancement office, where I worked on institutional grants to support students & academic programs & capital campaigns. More recently I was with the graduate program in their School of Nursing, where I worked with students completing Doctor of Nursing Practice degrees.
What benefits do you draw from the Science Hall community of students, faculty, and staff that you wouldn't have elsewhere?
I've lived in Madison for about 25 years and never really explored Science Hall until now. It's an amazing space – and there's so much going on. Geography is such an open field, then add to that everything happening through the Cartography Lab, the Nelson Institute, the WI State Cartographer's Office, interdisciplinary programs, professional programs…I'm really enjoying the energy & diversity.
What are some of the challenges of your role?
For now, it's learning the ins and outs of the program and UW while trying to support students.
What are some of your favorite hobbies outside of work?
It's hard to think of them right now because most don't include snow and ice. But I love reading fiction, which goes well with homebound, winter days!